June 14, 2013 — Mortgage rates maintained an upward trend for an sixth consecutive week, but the surge in rates sparked by minutes from the Federal Reserve meeting, subsequent comments by Fed officials and moderate economic data thankfully appears to be slowing.
From our perspective, mortgage and other interest rates have probably overshot the mark, at least based upon the economic and inflation climate in which the increases have occurred. It is fairly commonplace for rates to drift downward but spike upward, which they have, only to later settle back somewhat. Given the state of underlying interest rates as this week came to a close, and dependent upon both a continuation of modest-to-moderate economic data and some soothing words from the Federal Reserve, mortgage rates may now have some space to fall. This expectation may be perhaps a little hopeful, but by no means unlikely.
HSH.com's broad-market mortgage tracker — our weekly Fixed-Rate Mortgage Indicator (FRMI) — found that the overall average rate for 30-year fixed-rate mortgages lifted by another five basis points (0.05%) to 4.15%, the smallest move of the recent uptrend. The FRMI's 15-year companion added a like amount to its average, rising by five basis points (0.05%) to 3.33% for the week. FHA-backed 30-year FRMs added another just three basis points to move to an average rate of 3.77%, while the overall 5/1 Hybrid ARM moved upward by eight hundredths of a percentage point (0.08%) to 2.85% for the week.
For rates to settle back, we'll need some poorer economic news. There have been a few signs of slowing — the Institute for Supply Management index moved into "contracting" space just a week ago, and the Fed's "Beige Book" estimate of growth was marked down in the latest report — but these were insufficiently weak to break the upward string of increases. We'll need more evidence that growth is slowing from the 2.4% rate of GDP in the first quarter and more data that inflation is soft or declining. We may also need some clarity from the Federal Reserve that it sees no immediate reason to substantially change their program of purchasing mortgage-backed securities and Treasuries.
See this week's Statistical Release and Mortgage Trends Graphs.
Want to get Market Trends as soon as it's published on Friday? Get it via email — subscribe here!
But will that come? The data will likely be clear enough, but the Fed may not be as clear. Unfortunately, any ambiguity might send the market reeling again, and the Fed has no doubt noticed (and should be a little concerned with) the plummet in mortgage applications for both purchase and refinancing over the past month. Both the recasting of household debt though refinancing and the purchase of existing (and especially new) homes have important economic consequences, and have been key to the revival of the economy. However, it may well be, with a sizable number of refinances already completed, that the Fed may think that there is little more to be gained there from an economic-benefit standpoint. At the same time, the ability to purchase a home with a 4 percent interest rate is still a highly viable and very compelling opportunity, so at least one widespread benefit of low mortgage rates would persist.
When rates were falling and first approaching the 4 percent mark, there were throngs of cheering crowds ecstatic about the chance to borrow at multi-generational-low mortgage rates, and with good reason. Now that we have moved back to the 4% level, there should still be cheering, but instead there is some concern being expressed about damage to the housing market.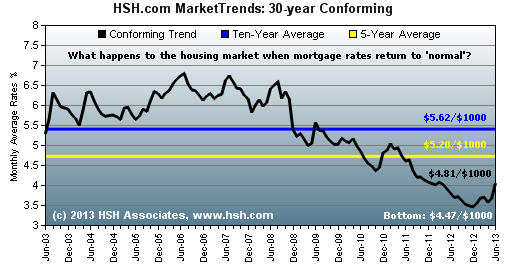 Despite recent increases, mortgage rates remain low by any stretch of the imagination, well below both five-year and ten-year average rates — and more than a full percentage point below the non-Fed-manipulated weekly low of 5.24% for the conforming 30-year FRM set back in June 2003. Mortgage costs have increased from recent bottoms — not a welcome happenstance, by any means — but still remain considerably below both the intermediate and longer run norms.
Has the recent rise in rates been sufficient to see more investors interested in purchasing MBS, and by doing so, possibly allowing the Fed to begin to slow purchases without undue effect on the market? It's too soon to tell. If the market consensus is that rates will move higher still it is unlikely that there would be much new demand to replace an absent Fed. However, higher rates — which would cause a smaller number of mortgages to be originated, which in turn would cause a smaller number of mortgage-backed securities to be issued — could allow the Fed to buy fewer MBS (since there would be fewer new MBS to buy overall), while still maintaining buys at the same percentage of the market as they have been. Could this occur? Possibly, but if nothing else, this is just some food for thought.
If HSH's weekly MarketTrends newsletter is the only way you know HSH, you need to
come back and check out HSH.com from time to time. You'll find new and changing content on a regular basis, unique calculators, useful insight, articles and mortgage resources unlike anywhere else on the web.
There was nothing in the available economic data out this week to suggest any breakout in the pattern of modest-to-moderate economic growth. Retail sales in May did manage a nice 0.6% rise, the largest gain since February, with a gain of half that much once expensive auto purchases and volatile gasoline sales were backed out. After a decline in March and the barest uptick in April, sales have been nudging higher, but remain well below robust levels.
Price pressures in the economy are muted and erratic. Import prices fell by 0.6% in May, a third consecutive decline. In fact, overall costs of goods coming onto these shores have fallen in five of the last seven months. Taking volatile petroleum costs out of the equation still left a 0.3 percent decline, and there are no inflation concerns to be seen here at the moment. We are exporting lower costs, too, as export costs fell by 0.5%, a third fall in a row. Over the last 12 months, import prices have declined at a 1.9% rate, and exports, a 0.9% one.
It might be expected that lower import costs might create a fall in the Producer Price Index, but that was not the case in May. The PPI rose by 0.5%, rather above forecasts, as food and gasoline costs bumped higher during the month. That did come, however, on the heels of a 0.6 and 0.7 decline over the last two months, respectively. May's "core" PPI, a calculation that excludes food and gasoline, showed an increase of just 0.1%, and prices further upstream are declining, according to the report. As with the import price changes, there doesn't appear to be any inflation in the producer pipeline to cause any concern. Over the past year, headline PPI has climbed by a slight 1.8%, and core PPI by just 1.6%. We'll see fresh readings on consumer-level price changes next week.

HSH.com has a great variety of calculators for homeowners and homebuyers alike. From refinancing, prepaying, deciding how to pay closing costs, seeing if its a good time for you to buy a home or simply figuring out when you'll no longer be underwater, our unique tools and tips can make your financial life easier. See our entire selection of calculators for all your mortgage management needs!

Industrial Production was unchanged in May. The flat reading from April was the result of just a 0.1% rise in manufacturing production, a 0.7 percent lift in mining output and a 1.8% fall in utility usage during the month. A reflection of that slowness was seen in the percentage of industrial capacity in active use; this eased by one tenth of one percent to 77.6% for the month, the lowest figure since August 2011.
Inventories at the nation's wholesaling firms were cautiously expanded in May. The zero-point-two percent increase in the value of stockpiles was a little below forecasts, but sales did move 0.5 percent higher, keeping buildup to a minimum. With the increase in sales, the ratio of goods on hand eased to 1.21 months of supply, so inventories remain lean, and new orders will be required to replenish them should demand continue apace. That might help factory orders to perk up a little as we move into summer, but the slow economic climate will keep any gains on the muted side. That was also the approximate takeaway from the larger measure of overall business inventories measured in April, where manufacturers and retail holdings didn't contract, but rather expanded a little, providing little reason to increase orders at the moment, even as inventory levels remain pretty lean.
Weekly claims for new unemployment benefits continue to thrash about in a fairly narrow range. They did move a little closer to the bottom of that range during the week ending June 8, where some 334,000 new applications for benefits were placed at state windows. We have yet to see a real positive trend form this year, but instead have seen a gradual diminishment of new claims followed by upward flares. If we should break closer to the 300,000 level and hold there for a time it would be a clear signal of rising economic strength, but no such move has come so far.
Visit the HSH Finance blog for daily updates, consumer tips, and other things you need to know.

And follow us on Twitter for even more need-to-know news!
Our Statistical Release features charts and graphs
for 11 products, including Hybrid ARMs.
Our state-by-state statistics are now here.
Current Adjustable Rate Mortgage (ARM) Indexes
Index
For the Week Ending
Previous Year
Jun 07
May 10
Jun 08
6-Mo. TCM
0.08%
0.08%
0.14%
1-Yr. TCM
0.14%
0.11%
0.18%
3-Yr. TCM
0.49%
0.35%
0.36%
5-Yr. TCM
1.04%
0.76%
0.70%
FHFA NMCR
3.56%
3.54%
3.90%
SAIF 11th Dist. COF
0.970%
0.967%
1.163%
HSH Nat'l Avg. Offer Rate
4.10%
3.68%
3.99%
Consumer attitudes have soured a little since the last look at them. First, the weekly Bloomberg measurement of Consumer Comfort slipped by 1.6 points during the week ending June 9. The minus 31.3 level attained after that decline was the lowest reading since the week ending April 7, so happiness seems a little harder to come by of late. That was also seen in the preliminary June reading for Consumer Sentiment from the University of Michigan; a 1.8 point decline took the top off of last month's 8.1 point rise, leaving the indicator at 82.7 after the initial reading. Less comfort and happiness may presage some slowing in spending, but the relationship is tenuous at best.
Into this fray comes the Fed next week. From where we stand, there doesn't seem to be any economic or inflation reason to do anything but continue QE for a while longer yet, followed by a gradual tapering process. That said, and especially interest rate sensitive sector will report in next week with a June report from the National Association of Homebuilders and a look at May's housing starts and existing home sales. May's CPI report is due out, but there's no inflation to be found, and a couple of looks at manufacturing health will also provide bookends for the meeting.
Will we get needed clarity? Probably not as much as we could use, and the economic data will probably be mushy enough as to not strongly suggest that the Fed should move one way or another, or how quickly. Softer data would help rates to slip a little, but soothing words from the Fed after the meeting (or contained in the updated economic projections to be released at its conclusion) would allow for a more substantial fall. It is always dicey to forecast mortgage and interest rates during the week of a Fed meeting, so with fingers crossed, and based upon how the markets closed the week, we think there's a good chance that rates will fall by a few basis points (possibly more) by the time we get to the end of next week.
For an longer-range outlook for rates and the economy, one which will take you up until early August, have a look at our new Two-Month Forecast.
———-
Still underwater in your mortgage despite rising home prices? Want to know when that will come to an end? Check out our KnowEquity Underwater Mortgage Calculators, to learn exactly when you will no longer have a mortgage greater than the value of your home.
---
Go to HSH Market Trends
Get HSH Market Trends by Email - Click Here
Why sign up? Subscribers receive HSH Market Trends on Friday evening. Everyone else has to wait until Monday morning!