April 26, 2013 — Although the economy was in better shape in the first quarter of 2013 than it was during the last of 2012, there are few indications that it is poised to break out into a period of hot growth. Quite the contrary, in fact, since there are strong headwinds keeping the economy down at the moment which don't seem likely to diminish quickly.
At the same time, the effects of those headwinds do produce some tangible benefits. A slower world economy has a lessened demand for fuel, so gasoline and petroleum prices have fallen. That helps lessen inflation, which in turn helps keep interest rates low. Lower gasoline and other input prices put more spendable dollars in consumer pockets, which can provide considerable economic benefit, and lower interest rates can help borrowers to buy homes more easily or refinance to good effect.
That's not to make any sort of claim that bad news is good news, but only that there may be silver linings to be seen among the clouds, at least for some.
Low mortgage rates certainly qualify as one of those silver linings.
HSH.com's broad-market mortgage tracker — our weekly Fixed-Rate Mortgage Indicator (FRMI) — found that the overall average rate for 30-year fixed-rate mortgages eased by a single basis point (0.03%) to 3.65%, a new low for 2013. The FRMI's 15-year companion dropped by four basis points (.04%) to 2.89% for the week, a new all-time low. FHA-backed 30-year FRMs followed along with a decline of just one basis points (0.01%), falling to an average rate of 3.28%, accompanied by a one-hundredth percentage point slip in the overall average rate for 5/1 Hybrid ARMs to an average 2.60% for the week. a new low water-mark for the most popular ARM.
See this week's Statistical Release and Mortgage Trends Graphs.
Want to get Market Trends as soon as it's published on Friday? Get it via email — subscribe here!
While there is no doubt that the refinance market is sensitive to any bump in interest rates, it should be noted that home sales seem to be, too. A late-winter rise in mortgage rates certainly wasn't enough to cause a complete stall in sales or refinances, but it was enough to slow the speed of the recovery in homebuying.
Sales of existing homes leveled off in March, declining by 0.6% to an annualized rate of 4.92 million units. In fact, after a string of more or less regular gains, sales have been holding at roughly this level for the past five months. Although available inventory on the market did expand slightly to 4.7 months of supply, this is still a number well below the six months of supply which is considered normal. In the existing home sales report, the Realtors noted that a lack of supply seemed to he hurting sales growth, but tight inventories are fostering higher home prices. The 11.8% gain in prices when compared against March 2012 continued a string of double (or near double) digit gains in each of the last six months. Price gains are said to be occurring due to declining sales of low-priced "distressed" inventory, but it just may be that sellers are able to hold out for higher prices in hopes of recovering some of the equity lost during the price crash of a few years ago.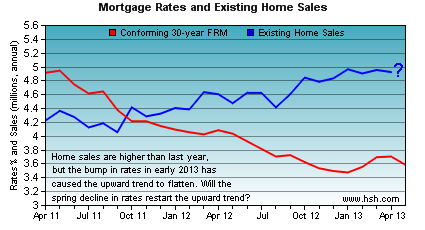 If HSH's weekly MarketTrends newsletter is the only way you know HSH, you need to
come back and check out HSH.com from time to time. You'll find new and changing content on a regular basis, unique calculators, useful insight, articles and mortgage resources unlike anywhere else on the web.
Sales of new homes did manage a slight rise in March, posting a 1.5% increase over the February figure. The annualized rate of sale during the month was 417,000 units, and excepting a spike in January, generally continues a slow upward trend. As with existing homes, inventory levels remain tight, with only 4.4 months of homes available on the market. Builders are only cautiously adding to inventories, and built-and-ready to be sold stock rose by just 3,000 units during the month, with now 153,000 ready to go. Sales are nearly 20% higher this March than last, but prices here are only creeping higher when compared against last year, and even declined by 6% on a month-to-month basis.
Based on the collective tenor of reports released over the last four weeks, we know that March was a slower month for the economy. The Chicago Federal Reserve's National Activity Index (an amalgam of some 85 economic indicators) bore this out quite clearly, as the NAI slipped from a positive 0.76 in February to a negative 0.23 in March. This indicates that the economy had been growing at an above trend level, then downshifted to a pace below par, thought to be perhaps a GDP of 2.6% or so.
We noted over the last couple of weeks that some forecasts for Gross Domestic Product growth for the first quarter seemed optimistic to us. While beating fourth quarter of 2012's 0.4% rise was a slam dunk, we thought we might struggle to get to the low to mid 2% range for the first quarter of 2013. As it turns out, that was exactly the case, as first quarter 2013 GDP came in at 2.5 percent. Growth is moderate at best, and the economy may have benefited more early in the quarter from extra or special dividends paid in December to beat "fiscal cliff" tax law changes. Later in the quarter, effects of the federal spending sequestration have begun to kick in, and this will be a headwind for growth into the second quarter and probably beyond.

HSH.com has a great variety of calculators for homeowners and homebuyers alike. From refinancing, prepaying, figuring out when you'll no longer be underwater to deciding if it's the right time to buy a home, our unique tools and tips can make your financial life easier. See our entire selection of calculators for all your mortgage management needs!

Orders for durable goods were soft in March, declining by 5.7% during the month. Most of the stepping back was from a fall in aircraft orders, but there was still a decline even when those aren't counted. Spending by businesses did manage a slight rise of 0.2%, but there's not a whole lot of strength to be seen to push factories along as we move deeper into the spring.
That could also be seen in regional reports of activity from two Federal Reserve districts. The Richmond district's indicator moved from a positive 3 in March to minus 6 in April. Home to shipbuilding and large naval installations, sequestration may pinch harder in the Richmond district than in some others, and the trend has been downward for two months already. Across the country in the Kansas City region, a seventh consecutive negative reading was seen in the KC Fed's index, with the last positive reading seen last September, a small one at that. Manufacturers are likely to continue to have a rough time of it, what with the combination of sequestration here and weak export growth tempering any pick up in demand for goods. We'll get the next broad look at manufacturing with the April ISM report out next week.
New unemployment claims were a bit of a bright-spot surprise this week, as initial claims for new benefits dropped to 339,000 during the week ending April 20, the lowest such figure in about five weeks' time. It won't be very hard to beat March's 88,000 new hires when the April employment report comes next Friday, but we wouldn't expect to see gains of more than 140,000 or perhaps a little more for the month.
Visit the HSH Finance blog for daily updates, consumer tips, and other things you need to know.

And follow us on Twitter for even more need-to-know news!
Our Statistical Release features charts and graphs
for 11 products, including Hybrid ARMs.
Our state-by-state statistics are now here.
Current Adjustable Rate Mortgage (ARM) Indexes
Index
For the Week Ending
Previous Year
Apr 19
Mar 22
Apr 20
6-Mo. TCM
0.09%
0.11%
0.13%
1-Yr. TCM
0.12%
0.15%
0.18%
3-Yr. TCM
0.34%
0.38%
0.41%
5-Yr. TCM
0.71%
0.80%
0.86%
FHFB NMCR
3.54%
3.43%
4.08%
SAIF 11th Dist. COF
0.999%
0.962%
1.224%
HSH Nat'l Avg. Offer Rate
3.68%
3.83%
4.19%
Measures of Consumer moods are moving mostly sideways. The weekly Bloomberg Consumer Comfort Index shed 0.7 points during the week ending April 21, easing to minus 29.9 for the week. This is still quite near the best levels of the recovery to date and the improvement in moods corresponds well to the fall in gas prices over the last few weeks. That may also be the reason for only the small decline seen in the final April report of Consumer Sentiment from the University of Michigan. Although the gauge did fall by 2.2 points for the month, from 78.6 in March to 76.4 in April, the initial April reading of Sentiment from a couple of weeks ago suggested that a much bigger decline was in the offing. Perhaps cheaper gas and some spring weather helped moods improve as the month came to a close.
If dark clouds can have silver linings, it seems logical that silver linings can have dark clouds. The weak economy gives us lower gas prices, which increase spendable dollars; when spent, this increases economic growth, and the pick up in demand can serve to help prices for fuel rise again. Lower rates have revived a moribund housing market, but stronger housing sales also serve to revive the economy, ultimately lifting interest rates, not to mention engendering higher home costs. Higher rates and higher costs can slow activity in the market… and round and round we go.
All of these (and other) cycles take time to run from peak to trough, or on a larger scale from boom to bust. Some run over a course of weeks, some over a course of months or even years. At present, we are well above big-cycle bottoms but nowhere near tops, and the economy continues to struggle to produce reliable, solid growth. It would appear that this is likely to be with us for some time yet, continuing a fits-and-starts pattern long in place already.
For mortgage rates? Their little peak-to-trough may not be completely over, but the recent decline in rates should help foster some additional homebuying and refinancing demand, and that alone should be enough to keep rates from falling very much. From here, we would need some truly bleak reports — both domestic and foreign — to press rates much lower, or a collapse in demand for mortgage credit. More likely, we are back to a place where, for the most part, the only way to go is up.
Not next week, though, or at least not much, anyway. Although April's economic news should be somewhat better than March's, rates are mostly likely to wobble around these levels, possibly adding a couple of basis points at most.
For an longer-range outlook for rates and the economy, one which will take you up until late May, have a look at our new Two-Month Forecast.
———-
Like HARP 2.0? We think we devised a better plan… almost three years ago!
Have a look at our idea — read about HSH.com's Value Gap Refinance concept, and be sure to let us know what you think.
---