April 12, 2013 — For the last couple of years, market optimism that the economy was finally ready to bust out into self-sustaining growth formed in the mid-winter. In each case, winter's hopes gave way to spring's reality, and evident troubles in both domestic and global economies crushed those dreams, driving mortgage rates downward. While things are different in 2013 than 2012 or 2011, we may simply have a different set of problems which produce the same result. Concerns that the economy was becoming strong enough so as to suggest an early end to the Fed's QE3 campaign have been pushed aside, as weak consumer and labor market data have again moved to the forefront.
Mortgage rates have recently dipped after a peak, much as they did during the last two winter-to-spring period. Will it continue?
HSH.com's broad-market mortgage tracker — our weekly Fixed-Rate Mortgage Indicator (FRMI) — found that the overall average rate for 30-year fixed-rate mortgages eased by eight basis points (0.08%) to 3.69%, its third lowest rate of 2013. The FRMI's 15-year companion also dropped by eight basis points (.08%) to 2.94% for the week. FHA-backed 30-year FRMs managed a decline of five basis points (0.05%), falling to an average rate of 3.30%, while the overall average rate for 5/1 Hybrid ARMs dropped by four hundredths of a percentage point, probing new record low territory with an average 2.61% for the week.
See this week's Statistical Release and Mortgage Trends Graphs.
Want to get Market Trends as soon as it's published on Friday? Get it via email — subscribe here!
Demand for mortgage credit, spurred by refinancing and augmented by a housing market finding some footing also plays a role. Supply and demand isn't dead as a market mechanism, and busy mortgage lenders have had little reason to chop rates to attract new business. A bump in interest rates, though, tends to cool refinance demand, and with only a limited bit of purchase-money business to go around, lenders tend to be tempted to market more aggressively, trimming rates.
As home sales have stopped accelerating and are holding a plateau at the moment, refinance activity has begun to slow as the pool of homeowners who can refinance profitably or successfully is becoming sated. This slowing of demand may be a partial reason for the slippage in mortgage rates of late, with concerns about the economy the other component. Will the fall in rates re-spark refinance activity? Yes, to some degree… but unless we re-test or approach record lows, we've already tread this ground, with some of the potential market already processed.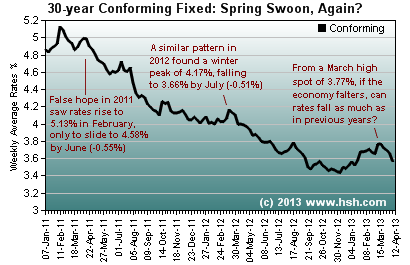 The Federal Reserve released the minutes of its March meeting this week, and a focus of the discussion contained in the document was how and when to begin to removed the extraordinary policy supports the Fed is currently using. While the meeting took place before the very soft March employment report, there was little consensus as to how soon or how quickly the program of buying mortgages and Treasury bonds should end. With more of an accumulation of weaker economic news since the meeting, participants who favored exits by mid-late 2013 may reconsider their time horizons.
A combination of things may be fostering the current slowness. The sharp rise in gasoline prices has recently reversed, but that, combined with the damage caused to pocketbooks by the end of the payroll tax holiday, has put a damper on consumer spending and tempered enthusiasm about the outlook.
Retail Sales are a case in point. The latest report covers March, where a decline in sales of 0.4 percent was seen. That fall was partly due to again-falling gasoline prices, but the weakness was widespread enough to cause a 0.1 percent fall without including those or auto sales. As well, both February and January figures were revised downward, too, with January also falling into negative territory. Over the past year, retail sales have now expanded by a scant 2.8 percent, the smallest such gain since 2009.
Consumer moods spent much of late last year on an improving bent, with the University of Michigan survey of Consumer Sentiment peaking when the November elections concluded. Since then, it's been a roller coaster ride; a sharp fall in December due to concerns about the "fiscal cliff", then an uphill trend for January, February and March. Reality seems to have set in again, and the preliminary reading of April Sentiment found a 6.3 point decline to a 72.3 mark for the index. If it holds for the full month, it will be the lowest level since last July, and not the kind you would expect to see if the economy was gaining steam.
If HSH's weekly MarketTrends newsletter is the only way you know HSH, you need to come back and check out HSH.com from time to time. You'll find new and changing content on a regular basis, unique calculators, useful insight, articles and mortgage resources unlike anywhere else on the web.
The latest reading of initial unemployment claims did see a decline, but only one sufficient to move back to mediocrity. During the week ending April 6, some 346,000 new applications for assistance were filed, down 42,000 from an outsized reading, itself probably the result of seasonal adjustment issues related to the early Easter week. The 346,000 is about in the middle of the range which we've seen this year, suggesting that present levels of hiring are moderate at best.
That economies here and abroad are soft is also reflected in price pressures. Hot economies drive up demand for goods and services, allowing prices to rise; for cool or cold ones, the reverse is true. At the moment, price pressures are fairly weak, with the latest Producer Price Index sliding by 0.6%, mostly due to lower energy costs. "Core" PPI (a measure which excludes the most volatile components) rose by a meager 0.2%; over the past 12 months, "headline" PPI is up by 1.1%, and core, by 1.7%. Both remain well contained, and it is likely that we'll see much the same news when the Consumer Price Index is released next week.
As the U.S. is a net importer of goods, rising costs of inbound items would tend to affect our PPI and CPI. Goods coming onto these shores had a lesser total value in March, with overall costs easing by 0.5% when compared with February. Even excluding falling petroleum costs still left a small decline, and with less inbound price pressures to pass along, export prices also shrank for the month, sliding by 0.4 percent. Goods coming onto these shores cost 2.7 percent less this year than last, while we managed to increase the price of goods leaving here by 0.3 percent over the same period.
Visit the HSH Finance blog for daily updates, consumer tips, and other things you need to know.

And follow us on Twitter for even more need-to-know news!
Our Statistical Release features charts and graphs
for 11 products, including Hybrid ARMs.
Our state-by-state statistics are now here.
Current Adjustable Rate Mortgage (ARM) Indexes
Index
For the Week Ending
Previous Year
Apr 05
Mar 08
Apr 06
6-Mo. TCM
0.10%
0.12%
0.14%
1-Yr. TCM
0.13%
0.15%
0.19%
3-Yr. TCM
0.34%
0.38%
0.51%
5-Yr. TCM
0.73%
0.82%
1.02%
FHFB NMCR
3.43%
3.35%
4.25%
SAIF 11th Dist. COF
0.999%
0.962%
1.224%
HSH Nat'l Avg. Offer Rate
3.77%
3.79%
4.30%
The broadest measure of stockpiles at concerns of all stripes found just a 0.1 percent rise in February, the smallest gain since a negative reading last March. Manufacturers and retailers did add to inventory levels but only at a very slow rate, while the nation's wholesaling firms cleared out stock during the month without replenishing it. The net decline in wholesale inventories came as sales were fairly strong (retail sales were a full 1% gain in February, so there was downstream demand for goods at that time) but that lack of immediate restocking may indicate some caution and concern about slack demand starting to form. With a poor retail sales month in March, that may have been a fairly prescient stance. If new demand doesn't seem to be forming, wholesalers may not feel any pressure to place new orders with factories, and that might slow the economy somewhat more.
The weekly Bloomberg Consumer Comfort Index ticked up by 0.1 during the week ending April 7. The last four weeks have been very flat, holding several points below the best levels of 2013. The assessment of personal finances in the report put in a third negative week, so it's a fair bet that moods aren't poised to improve anytime soon, or quickly.
But does all this presage a new spring swoon for the economy in general and mortgage rates in specific? "Past performance is not a reliable indicator of future returns", as the investment types like to say. The economy is on better footing (sort of) this year than the last two, somewhat more people are employed, the housing market is greatly improved and more. But troubled overseas economies means it will be hard to grow exports, so that economic support is weakened, and higher taxes for some (and higher payroll contributions for all) plus government sequestration kicking in does suggest that slow growth, at best, is in the offing. The fourth quarter of 2012 sported only 0.4 percent GDP growth, and even with a fairly strong January and February overall, March failed to exhibit any upward momentum, so we may struggle to see an initial GDP reading in the low to mid twos as a result. This despite all the extraordinary supports, low interest rates and markets flooded with cash.
It's a fact that mortgage rates tend to fall more slowly than they rise. Poor economic data and some flight-to-quality buys of Treasuries have pressed interest rates lower, at least somewhat. If the drumbeat of weak news continues, we could see a slow slide into summer for mortgage rates, but it seems unlikely that we'd get one of 50 basis points or so such as those that happened in the last couple of years.
Next week, we'll get a look at a couple of housing indicators, two reports covering regional manufacturing activity, industrial production and the Fed's own survey of regional economic conditions. Mortgage rates dipped last week and this one, but we seem likely to pause at about these levels for next week.
For an longer-range outlook for rates and the economy, one which will take you up until late May, have a look at our new Two-Month Forecast.
———-
Like HARP 2.0? We think we devised a better plan… almost two years ago!
Have a look at our idea — read about HSH.com's Value Gap Refinance concept, and be sure to let us know what you think.
---
Have you seen HSH in the news lately?
Want to comment on this Market Trends? Post it here — add your feedback, argue with us, or just tell us what you think.
And for today's top stories, see our HSH Finance blog. Want the latest news/advice/whatever? Follow us on Twitter.
Daily FRMI rates are available on HSH.com.
Check out our weekly Statistical Release here (and archives here).

Popularity: 13% [?]