March 15, 2013 — Mortgage rates moved higher this week, boosted by solid economic data with little to the contrary to be found. If anything, fresh data out seemed to buttress last week's reports, denoting an economy perhaps more resilient than could be expected, given recent tax bites and certain price pressures. Even with the recent rise in rates, which have served to move us about a third of a percentage point off the record lows seen in December, it's important to retain perspective about where they are at the moment.
HSH.com's broad-market mortgage tracker — our weekly Fixed-Rate Mortgage Indicator (FRMI) — found that the overall average rate for 30-year fixed-rate mortgages leapt by nine basis points (0.09%) to 3.88%, a 2013 high. The FRMI's 15-year companion rose just four basis points (.04%), rising to 3.08% for the week. FHA-backed 30-year FRMs added eight basis points (.08%), lifting to an average rate of 3.45%, while the overall average rate for 5/1 Hybrid ARMs rose six hundredths of a percentage point, climbing back into well-trodden territory at an average interest rate of 2.71%.
It doesn't take more than a cursory glance at the chart below to see the truth: Even with the rise from the bottom of the bottom for rates, they have only returned to levels recently celebrated as "new record lows!"
See this week's Statistical Release and Mortgage Trends Graphs.
Want to get Market Trends as soon as it's published on Friday? Get it via email — subscribe here!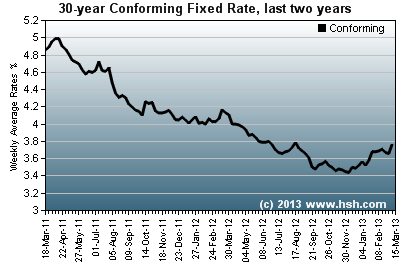 That's not to say that increases in rates are welcome or desirable, but they are to be expected. In fact, the stronger the economy becomes, the higher rates may grind; the Federal Reserve is keeping them low to goose the economy, but an economy responding to the Fed's medicine will soon see less of a need for it in order to function. If not otherwise manipulated, higher rates are the natural result of a growing economy, as rising demand for available credit supply and concerns about inflation allow costs to rise.
Some of the price of credit is determined by inflation, both actual and potential. Depending upon where one looks, inflation can be seen — at the gas pump, at the grocery store, in the stock market, and even in home prices in some places. The Federal Reserve has moved toward explicit speed limits for prices in the past year, and it would seem that their supportive policies are having at least some effect on costs.
The Producer Price Index rose by a stout 0.7% in February, a fair leap over January's 0.2% rise. As has been the case on a number of occasions over the past year, price pressures were seen in fuel and food inputs, and leaving them out of the equation to reveal the "core" PPI found a tamer 0.2% rise for the month. Over the past year, prices upstream of the consumer have rise by 1.8% for the headline and 1.7% at the core and remain fairly tame.

HSH has several lengthy series of statistics dating back to the 1980s for FRMs and ARMs, Conforming, Jumbo and FHA products. These can be licensed for use — interested parties should inquire here.
The Fed has an official 2% limit on inflation, but has allowed itself some wiggle room by indicating it would tolerate prices to run perhaps 2.5% for some time before considering changing loose-money policies. Leaving themselves some room has turned out to be a good idea, since the Consumer Price Index has run at or above 2% on an annualized basis at times over the past six months. In January, the headline CPI spiked by 0.7%, driven by expensive gasoline, and like its PPI twin, leaving the most volatile items on the side finds just a 0.2% rise in costs for the month. However, over the last 12 months, consumer inflation in both the headline and core measures are at two percent and have nudged a little higher of late. If price pressures continue to show, interest rates may also nudge higher as a result.
Prices for goods coming into the United States bumped 1.1% higher in February, rather more than was expected. All of the rise was due to pricier petroleum products; prices without them included were unchanged for the month. We also did create some price pressures for others, though, as export costs rose by 0.8% for the month. Even with the gains, import prices are presently 0.3% lower over the last year, while exports are just 1.5% higher.
A true inflation spiral — higher prices cause higher wages which can cause higher prices (or vice versa) — probably can't happen without a strong labor market. We remain pretty far from that, but there has been some concern expressed that the long duration of unemployment for some people may have eroded skills, making it hard for employers to quickly find qualified people to meet any upsurge in demand. Those with skills and jobs may find themselves in a stronger bargaining position, and wages could rise as a result of that leverage.
The labor market has shown some signs of improvement lately, with more than 200,000 jobs created in February, and rather fewer firings. In the week ending March 9, a recovery-low 332,000 folks filed for unemployment claims for the first time. The low reading may have been partially due to bad weather across a swath of the country last week, and may be revised away, but recent weeks have been just a little above these levels and claims may be moving downward to a place which suggests a strengthening job market.
If HSH's weekly MarketTrends newsletter is the only way you know HSH, you need to come back and check out HSH.com from time to time. You'll find new and changing content on a regular basis, unique calculators, useful insight, articles and mortgage resources unlike anywhere else on the web.
Folks with incomes apparently were happy to spend more of them in February. Retail sales popped 1.1% higher during the month, a solid figure, but that was largely the result of spiking gas prices. Still, the 0.4% rise in "core" retail sales — a figure which leaves out the influence of pricey car sales and unpredictable fuel costs — was reasonable and continued a string of firm reports. Some categories which feature more discretionary spending (restaurants, electronics, etc.) did soften up somewhat, though, and were probably affected by those higher gas prices during the month. Regardless, overall outlays in February were the highest since last September.
It's a good thing that sales have risen, because inventory levels have too. Or at least they did, in January, when the level of stockpiles at businesses from manufacturing to retail climbed by a full 1%, about two and a half times the expected rise in goods on hand. If inventories become bloated, new orders to factories are less likely to occur, and that would tend to slow the activity among manufacturers and those they purchase goods from in turn. The ratio of goods on hand relative to monthly sales goals remains well in check, but it did move up to the highest levels in six months.
A local Federal Reserve report covering manufacturing strength in New York featured a second consecutive solid month in March, a welcome change in pattern which saw a six-month downturn end last month. There may be a bit of Sandy-recovery activity being seen here, as money has begun to flow into the region. February was a little softer than was January, but there may have been a little "fiscal cliff" spending during that month which didn't exist in February.
Industrial Production moved higher in February, rising by 0.7% for the month. Although mining concerns slipped, manufacturing gained, as did utility output, which came as a result of a cold snap. With the gain, the amount of capacity being used by these concerns rose to a post-recession high of 79.6%, creeping a little closer to levels of around the 82 percent or so seen before the downturn arrived.
Visit the HSH Finance blog for daily updates, consumer tips, and other things you need to know.

And follow us on Twitter for even more need-to-know news!
Our Statistical Release features charts and graphs
for 11 products, including Hybrid ARMs.
Our state-by-state statistics are now here.
Current Adjustable Rate Mortgage (ARM) Indexes
Index
For the Week Ending
Previous Year
Mar 08
Feb 08
Mar 09
6-Mo. TCM
0.12%
0.11%
0.14%
1-Yr. TCM
0.15%
0.15%
0.18%
3-Yr. TCM
0.38%
0.39%
0.43%
5-Yr. TCM
0.82%
0.85%
0.87%
FHFB NMCR
3.35%
3.29%
4.15%
SAIF 11th Dist. COF
0.962%
1.071%
1.221%
HSH Nat'l Avg. Offer Rate
3.79%
3.84%
4.22%
Consumer moods remain a mixed bag. The weekly Bloomberg Consumer Comfort Index put in a sixth straight week of improvement, and at minus 31.4 stands at its highest level since April of last year. It won't take much of an upward move for us to get out of the post-recession range, even if we remain perhaps 20 points below what passed for typical before the recession kicked in to high gear. While improvement was seen here, the preliminary March reading of Consumer Sentiment from Reuters/UMichigan poll shed 5.8 points from February's final value, with most of the decline coming from a slump in hopes for the future. The political stalemate in Washington is probably detracting from optimism that the future will feature an improving trend in fortunes, since spending cuts will tend to trim economic growth overall (and for some considerably more than others).
"Mortgage Rates Moving Higher". After years of "Mortgage Rates Declining" or "New Lows for Rates," it's a headline that we all must ultimately get used to, as it will become a more and more commonplace occurrence as we wend our way into the future. Still, that future remains in the future, but no one should expect that seeing headlines of an improving economy have no effect on the behavior of investors, Federal Reserve policies or not.
It wouldn't surprise us if the lift in rates since we turned 2013 has trimmed some optimism among those in the housing sector. We'll get a look at that next week, as the National Association for Home Builders will report in on the moods of its members. Housing starts and building permits will also provide some clues, and we'll also have a few other indicators to work with. The Federal Reserve has a meeting next week, and there will be no change to the various policies the Fed is maintaining. However, the release of the minutes in three weeks' time may provide clues as to how quickly these programs may change.
Rates were firm all week long, and probably will be next week, as well. We would expect perhaps a couple of basis point lift in mortgage rates by the time the week is through, but if the housing news isn't that strong, we just might move the other way by a similar amount.
For an longer-range outlook for rates and the economy, one which will take you up until late March, have a look at our new Two-Month Forecast.
———-
Like HARP 2.0? We think we devised a better plan… almost two years ago!
Have a look at our idea — read about HSH.com's Value Gap Refinance concept, and be sure to let us know what you think.
---