February 8, 2013 — After several weeks of being boosted by good news, the rise in mortgage rates seems to have run out of steam. Without a continuing stream of improving economic data, there just isn't enough momentum to create a sustained rise.
The rally in stock markets which has attracted investor cash seems to have come to a halt, too, and it wouldn't surprise us at all if we saw some reversal of money from stocks and back into bonds, at investors look for a place to park cash while awaiting the next updraft in the stock market.
Since it has only totaled about a quarter-percentage point, the mild rise in rates doesn't have appear to done any damage to refinancing or home purchase activity, and borrowers continue to respond to the favorable interest rate environment.
HSH.com's broad-market mortgage tracker — our weekly Fixed-Rate Mortgage Indicator (FRMI) — found that the overall average rate for 30-year fixed-rate mortgages climbed by just a single basis point (0.01%) to 3.84%, while the FRMI's 15-year companion held fully steady at 3.10% for the week. FHA-backed 30-year FRMs managed a decline of one hundredth of a percentage point (.01%), moving back down to 3.41%, as inexpensive mortgage money remains readily available to credit- or equity-impaired borrowers. The overall average rate for 5/1 Hybrid ARMs failed to move in either direction, choosing instead to remain at an average rate of 2.76% for the period.
See this week's Statistical Release and Mortgage Trends Graphs.
Want to get Market Trends as soon as it's published on Friday? Get it via email — subscribe here!
There wasn't much by way of fresh economic news to push the market around this week, and what was available featured few surprises. The Institute for Supply Management report covering non-manufacturing business showed a slight easing in January, with the indicator moving down by 0.5 points, cruising from 55.7 in December to 55.2 in January. At the present level, the indicator suggests that the service sector of the economy is holding in a pattern of moderate expansion. In the report, orders backed off a little after two good months; the employment component moved higher for a second consecutive month, so perhaps there will be somewhat more job growth in the not-too-distant future.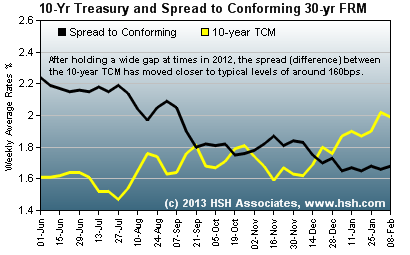 A slowing of worker productivity may necessitate some additional hiring, too. After a strong 3.2% gain in output per worker during the third quarter of 2012, there was a marked falloff in output in the fourth, as a decline of a full 2% was noted. If existing workers cannot keep up with demand, businesses will have to put more people on the payroll; however, a decline in output per employee means that the cost of labor for each unit of production does increase, eroding profits There was a 4.5% rise in unit labor costs during the fourth quarter; but it was only the first increase since quarter number one of 2012.
Consumer borrowing continues to expand, at least for cars and education. Outstanding credit balances expanded by some $14.6 billion in December, with an $18.2B rise in installment credit tempered by a $3.6B decline in revolving account balances. This has been a persistent pattern for a while now as folks can get access to private auto credit and federally-backed student loans, and are taking advantage of those chances to get re-trained to better their employment prospects or trade out of aging cars and trucks.

HSH has several lengthy series of statistics dating back to the 1980s for FRMs and ARMs, Conforming, Jumbo and FHA products. These can be licensed for use — interested parties should inquire here.
Credit continues to become somewhat more available throughout the economy. The Federal Reserve's latest survey of Senior Loan Officers found a general loosening in the requirements to get commercial and industrial loans, and that underwriting standards for some prime mortgage loans has eased as bit as well. Since the mortgage market continues to be dominated by the rules of Fannie, Freddie and the FHA, we can only surmise that this reflects some easing in portfolio-based lending standards, largely for jumbo mortgages, ARMs and the like.
The broadest measure of factory orders showed a 1.8% increase in December. That gain came with a rise in orders for durable goods, as orders non-durables slipped backward. That durables moved higher is unsurprising, since this includes things like cars and trucks, not to mention stoves, refrigerators, heating units and the like. In the aftermath of Sandy, a lot of that type of equipment needed to be replaced, so it stands to reason that orders went up in the period after the storm.
What will 2013 year bring for mortgages, housing and more? You'll want to read HSH's
"10 Thoughts for '13″. Check it out today!
Inventory levels upstream of retailers shrank a little in December, easing by 0.1%. Sales during the month were flat compared with November, but that seemed enough to draw down stockpiles slightly. Inventories appear to be in fair balance with demand, and measures of stockpiles on hand relative to sales have remained pretty level for some times. That in turn should help keep orders coming into factories as 2013 unfolds.
The nation's imbalance of trade shrunk sharply in December. The $38.5 billion was the smallest gap in several years, with about $10B disappearing from November to December. Exports rose mildly, but imports declined by about twice as much, and both the goods and petroleum deficits shrank during the month while our surplus for services rose a little. It may well be that the temporary economic standstill we saw as we approached the fiscal cliff in December was the cause of the decline in imports. Whatever the case, rising growth here usually sees the trade gap widen as we import more goods and services, so the decline is something of a concern.
More demand for goods and services — imported or domestic — will come as the labor market improves. Weekly unemployment claims had shrank appreciably a few weeks ago but lately have returned to familiar levels. The 366,000 new applications for benefits filed during the week ending February 2 is a figure we saw during a number of weeks as we ended 2012 and started 2013. With both hiring and firing pretty flat at the moment, it's hard to expect any kind of huge run up in hiring anytime soon.
Visit the HSH Finance blog for daily updates, consumer tips, and other things you need to know.

And follow us on Twitter for even more need-to-know news!
Our Statistical Release features charts and graphs
for 11 products, including Hybrid ARMs.
Our state-by-state statistics are now here.
Current Adjustable Rate Mortgage (ARM) Indexes
Index
For the Week Ending
Previous Year
Feb 01
Jan 04
Feb 03
6-Mo. TCM
0.11%
0.12%
0.09%
1-Yr. TCM
0.15%
0.15%
0.13%
3-Yr. TCM
0.42%
0.39%
0.31%
5-Yr. TCM
0.89%
0.78%
0.73%
FHFB NMCR
3.29%
3.36%
4.22%
SAIF 11th Dist. COF
1.071%
1.000%
1.201%
HSH Nat'l Avg. Offer Rate
3.83%
3.68%
4.18%
Consumer moods brightened a little for the first time in four weeks. The Bloomberg Consumer Comfort Index managed a 1.2 point rise during the week ending February 3, erasing the bottom of a month-long downward spike. With paychecks pinched by the end of the payroll tax holiday and with gasoline prices again on the rise we don't expect to see a lot of improvement in consumer moods as we wend our way though the end of the winter.
Next week again features a light calendar of economic data, leaving investors to again ponder the direction of the economy and how best to employ their money throughout it. If this week's experience is any guide, we probably don't see a whole lot of movement for mortgage rates one way or the other, but could probably find a decline of a couple of basis points by the time the week comes to a close.
For an longer-range outlook for rates and the economy, one which will take you up until late March, have a look at our new Two-Month Forecast.
———-
Like HARP 2.0? We think we devised a better plan… almost two years ago!
Have a look at our idea — read about HSH.com's Value Gap Refinance concept, and be sure to let us know what you think.
---