September 28, 2012 — Mortgage rates continued down a Fed-engineered slide this week, with some additional push from generally weak economic data and typical end-of-month and -quarter moves in stock markets. Even without the Fed, the tenth of a percentage point decline in the influential 10-year Treasury yield would have dragged mortgage rates down all on its own.
HSH.com's broad-market mortgage tracker — our weekly Fixed-Rate Mortgage Indicator (FRMI) — found that the overall average rate for 30-year fixed-rate mortgages declined by a a dozen basis points (0.12%) to 3.82%, a new record low for the series; as well, the FRMI's 15-year companion shed seven basis points to land at a new record low of 3.03% for the week. FHA-backed 30-year FRMs downshifted by six basis points, as the most viable option for credit- or equity-impaired borrowers dipped to a new low of 3.29%. Finally, the overall average rate for 5/1 Hybrid ARMs finished the weekly survey at 2.70%, unchanged but holding steady at its own record low.
See this week's Statistical Release and Trend Graphs.
Want to get Market Trends as soon as it's published on Friday? Get it via email — subscribe here!
The Fed's hope is that its recent move will foster some additional purchases of homes, as sales — especially of new homes — have a wide-ranging beneficial economic impact. However, sales of new homes were about flat in August, coming in at an annualized 373,000 rate of sale; despite the minor slip, July and August were the strongest two months of the recovery so far. August's sales figure was off by just 1,000 from July's annual pace, and the amount of inventory available at the present rate of sale held fast at 141,000 units, about a 4.5 month supply. Builders are becoming more optimistic but remain cautious about adding to inventories, given the difficult economic climate. As with existing homes, prices are firming for new homes a little, too, but home prices remain well below boom-time peaks.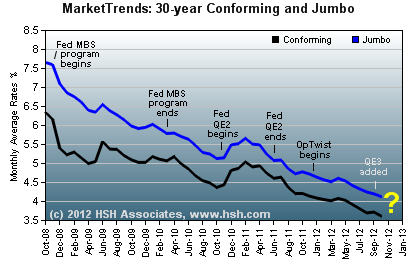 Outside of housing, there's little cheery economic data available these days, sans a few bright spots. That said, we've got a rather deeper hole to dig ourselves out of than was previously thought, as the final reading of GDP for the second quarter of 2012 found just a 1.3% rate of growth, marked down sharply from the already-poor 1.7% estimate of last month. While the expectation is that growth picked up a little in the third quarter, it is a long stretch to think we've gotten back to a self-sustaining rate of growth that will increase employment. We'd need to see growth at 3%+ (and probably closer to 4% at this point) for a while for that to occur. Based upon the July and August data, and the little September data available so far, we may fall well short of those lofty figures when GDP is calculated for the third quarter. The first estimate isn't due for a month's time yet.

HSH has several lengthy series of statistics dating back to the 1980s for FRMs and ARMs, Conforming, Jumbo and FHA products. These can be licensed for use — interested parties should inquire here.
One thing for certain is that we are running well below trend. The Chicago Federal Reserve's National Activity Indicator for August found its lowest reading since July 2011, chiming in with a muted value of minus 0.87 for the month. It was a sixth consecutive negative value for the index, which intends to show if economic growth is running above or below what is thought to be the economy's potential to grow on its own. That is reckoned to be a GDP of perhaps 2.6% to 2.8%, so not only have we been below that for some time, but also that a more pronounced downshift has happened in the middle of the second quarter.
Orders for durable goods are a case in point. A 13.2% decline in orders in August underscores the weakness in manufacturing being produced by the slumping economies of our trading partners. To be fair, the vast majority of the decline was due to a falloff in high-ticket transportation orders (aircraft etc.), but even excluding them left a 1.6% decline. Orders by businesses for items intended to last three years or more goods did firm a little bit, though, rising 1.1% for the month.
Personal incomes barely budged for a second straight month, rising just 0.1% in August; personal outlays rose by 0.5%, driven by higher gasoline costs. Of course, when there is more outgo than income, savings or borrowing must fill the gap. Since consumers have been generally paying down revolving credit balance for much of the recession and recovery, they may be using more savings than credit to fuel spending. As such, it is unsurprising that the nation's rate of saving dipped to 3.7% during the month, the lowest figure in five months.
While the national manufacturing report from the Institute for Supply Management isn't due until Monday, a report from a local Chicago-area group of purchasing managers may presage a downturn in that figure. The local group's indicator moved from mildly positive in August to mildly negative in September, which doesn't bode well for a pickup on a national level. Still, we'll need to wait and see; the national figure has been below the breakeven threshold of 50 for two consecutive months, but just barely, and the Chicago region may merely be catching up.
Perhaps there won't be much change, then. Local reports of activity from the Richmond and Kansas City Federal Reserve Banks weren't much to get excited about, but they were on the positive side of the ledger in September, with the Richmond Fed rising from -9 in August to a reading of 4 for this month. A reversal was seen in the Kansas City district, as their indicator slipped from 8 to 2 over the period; still positive, but only barely so.
Claims for new unemployment benefits were a bit of a bright-spot surprise. During the week ending September 22, just 354,000 new applications for benefits were processed at state windows. That was down by a sizable 26,000 from the prior week and the best figure since mid-July. There may have been some distortion in the numbers over the last few weeks due to Hurricane Isaac which may be fading, but whatever the reason for the dip in claims, it is welcome, nonetheless.
Visit the HSH Finance blog for daily updates, consumer tips, and other things you need to know.

And follow us on Twitter for even more need-to-know news!
Our Statistical Release features charts and graphs
for eleven products, including Hybrid ARMs.
Our state-by-state statistics are now here.
Current Adjustable Rate Mortgage (ARM) Indexes
Index
For the Week Ending
Previous Year
Sep 21
Aug 24
Sep 23
6-Mo. TCM
0.14%
0.13%
0.03%
1-Yr. TCM
0.18%
0.19%
0.10%
3-Yr. TCM
0.36%
0.39%
0.33%
5-Yr. TCM
0.70%
0.75%
0.85%
FHFB NMCR
3.56%
3.66%
4.57%
SAIF 11th Dist. COF
1.094%
1.116%
1.338%
HSH Nat'l Avg. Offer Rate
3.82%
3.96%
4.34%
Given the headwinds in the economy and high gas prices, it is also surprising that consumer moods are improving. Consumer Confidence rose to its highest level since February, according to the Conference Board, and sports a value of 70.3 for September. The index of Consumer Sentiment produced by the University of Michigan moved up by four points, landing at 78.3 in the final September reading, its highest level since May, while the weekly Bloomberg Consumer Comfort Index continues a trek higher, rising by 1.2 points to minus 39.9, its best showing since the end of July.
It may be that the "wealth effect" of a rising stock market — not to mention some stability or even modest gains in home prices — are fostering the improvement in attitudes. With its actions, the Fed is trying to create more of this kind of inflation in stocks and home prices, and perhaps the reason for the latest move is to engender more of the same kind of optimism. On the other hand, perhaps folks are simply becoming happier with the knowledge that election season will shortly run its course, or that respondents are more enthusiastic about their candidate's potential outcome in the forthcoming poll.
Mortgage rates moved down this week, wandering into new record low territory. That's all well and good, but as we've noted on a number of occasions, there is only so much good that low interest rates can do. We still have far too many headwinds keeping more folks from participating in housing markets and plenty who cannot refinance for a wide range of reasons. Housing price inflation will solve some of those problems over time, but it will be a long while before that occurs. More immediate is the need to move the unemployment needle steadily downward, and although the Fed is charged with this task, there are no specific tools it can employ to make someone hire even one additional soul. Rather, it hopes to promote economic risk taking, gambling that borrowing money today to invest in a new plant, store or shop will be met tomorrow with sufficient demand to utilize it. With a divided, impotent Congress, a fiscal spending and tax cliff just ahead, and healthcare mandates looming in the windshield, that remains a gamble that few wish to undertake.
But low rates we've got. It would be hard to imagine much new data which would push rates higher next week. That said, we will be watching the typical slew of first-week-of-the-month data, capped by the employment report on Friday (100,000 new jobs, maybe). The Fed will release the minutes of the meeting which resulted in their new policy, too, so some light reading is on tap as well. Mortgage rates seem likely to level off next week, settling in at about these levels.
For an longer-range outlook for rates and the economy, one which will take you up to early November, have a look at our new Two-Month Forecast.
———-
Like HARP 2.0? We think we have a better plan… for over a year now!
Have a look at our idea — read about HSH.com's Value Gap Refinance concept, and be sure to let us know what you think.
---