June 15, 2012 — Mortgage rates can't seem to stop plumbing new depths, settling at new record lows again after nudging higher earlier in the week. A continued string of disappointing economic news and a European currency teetering on the edge of at least partial dissolution is keeping investor money mostly headed for safety.
An odd offshoot of that is that some money has moved back into stocks of late, as some investors seem to expect the Federal Reserve and perhaps other central banks to enact new programs to spur the economy.
HSH.com's broad-market mortgage tracker — our weekly Fixed-Rate Mortgage Indicator (FRMI) — found that the overall average rate for 30-year fixed-rate mortgages fell by a single basis point (0.01%) for the week to 3.98%, a new record low. The FRMI's 15-year companion shed three basis points (0.02%), landing at a fresh bottom of 3.24%. Important to homebuyers and low-equity-stake refinancers, already-low FHA-backed 30-year mortgages bucked the trend, rising by three basis points to 3.67%, while the overall average rate for 5/1 Hybrid ARMs finished at 2.89%, posting another new low.
See this week's Statistical Release and Trend Graphs.
Want to get Market Trends as soon as it's published on Friday? Get it via email — subscribe here!
While there is little doubt that the economy is stumbling along as we near the end of the second quarter of 2012, there is also doubt of the benefit of any massive new programs coming from the Fed. The latest program, Operation Twist, intends to lower long-term interest rates as the Fed sells the short-term debt it holds and purchases long-term paper instead. The Fed is also busily re-investing the proceeds of maturing mortgages into new MBS, creating a ready buyer for these bonds and in turn serving to keep mortgage rates low. The present program is slated to conclude at the end of June. The market and the Fed in conjunction have already driven interest rates to record lows, but still, the economy remains weak. It is unclear what benefit, if any, will come from even lower interest rates.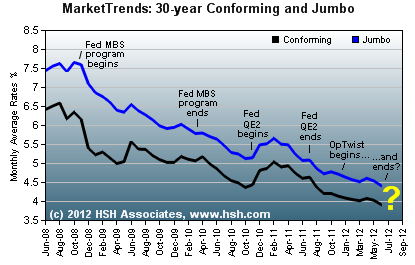 That said, we don't think the Fed will offer any major new programs. Instead, we think that an extension of at least a portion (if not all) of Operation Twist until the end of 2012 is most likely. In this way, the Fed can continue a now-familiar support for rates and mortgages. That said, there is a chance that they will not continue the Treasury-recycling portion of the program, but will continue to make a market for mortgages. As such, they could claim victory for one portion of the program (that interest rates have been moved lower) while still offering important support for the still-troubled housing market. The could also state that they would consider restarting the Treasury portion of the program should interest rates rise to less-supportive levels.

HSH has several lengthy series of statistics dating back to the 1980s for FRMs and ARMs, Conforming, Jumbo and FHA products. These can be licensed for use — interested parties should inquire here.
The Fed meets again next week to consider their options, and the domestic and global economy at large. The meeting concludes on Wednesday, and some clarity as to the Fed's intentions may come in the statement which follows the close of the meeting.
Meanwhile, the latest economic news leaves something to be desired. Perhaps the only good news this week came in the form of reports on prices, which are waning to some degree. Import Prices declined by a full 1% in May, driven downward by falling petroleum costs, but still featuring a 0.1% decline when those are removed form the calculation. Prices of goods headed off these shores eased by 0.4% for the month, and both import and export costs are falling when compared against a year ago.
Since we import so many goods into the US, falling import costs of course influence the Producer Price Index, which also fell by a full 1% in May, a second consecutive month of decline. Headline PPI has increased by a scant 0.8% compared to 12 months ago, but core producer inflation remains considerably firmer than that, rising by 0.2% for May and full 2.8% more than a year ago.
At least some of those trends are reflected in the Consumer Price Index. Headline CPI slipped by 0.3% in May after a flat reading in April, and consumer prices show a tame 1.7% rise over the last year. To a lesser degree that's true for "core" CPI, which rose by 0.2% for the month and remains fairly stubborn at 2.3% over the past year. The Fed's preferred speed limit for core CPI is 2%; we have been solidly over that for an extended period, although just mildly so. Some analysts believe that the Fed's hands are rather more tied with inflation running above their desired limit, but there are any number of deflationary forces in play (energy prices chief among them) which provide considerable offset to any price pressures.
Other offsets are evident too. Final demand in the form of Retail Sales has now declined by two months in a row, sporting back-to-back 0.2% declines in April and May. To be fair, retail sales are expressed in total dollars spent, and the decline is due in large part to falling gasoline prices. However, retail sales were also weaker when the effects of expensive auto purchases were removed, and the report was still fairly soft all around.
A slowing in final demand can mean a buildup of inventories at upstream locations. That was the case in April, as the broadest measure of business inventories rose by 0.4%; however, demand was such as to keep the overall ratio of goods on hand relative to sales at a thin 1.26 months, so there is no evidence of any bloating of stockpiles which might cause an additional slowing of order to factories.
They are already slowing, as evidenced by the May report from the Institute for Supply Management a couple of weeks ago. A localized report covering manufacturing activity in New York State revealed a further fall-off in June, and the New York Fed's survey featured a reading of just 2.3, a sharp decline from the 17.1 level seen in May. It was the lowest reading in the Empire State manufacturing Index in seven months, and a reinforcement of the litany of softer news.
Industrial Production slid by 0.4% in May, dragged backward by a decline in factory activity but bolstered by rising output from mining and utility concerns. There was a decline in the percentage of factory floors actively in use, which eased from 79.2% in April to 79.0% in May. A near steady climb from a recession low of 65.2% in June of 2009 has flattened out of late, but present levels are pretty close to where we stood before the economy sank into recession, and we've not been as high as an 80% utilization level in about four and a half years, let along levels which might suggest bottlenecks in production.
Visit the HSH Finance blog for daily updates, consumer tips, and other things you need to know.

And follow us on Twitter for even more need-to-know news!
Our Statistical Release features charts and graphs
for 11 products, including Hybrid ARMs.
Our state-by-state statistics are now here.
Current Adjustable Rate Mortgage (ARM) Indexes
Index
For the Week Ending
Previous Year
Jun 08
May 11
Jun 10
6-Mo. TCM
0.14%
0.15%
0.10%
1-Yr. TCM
0.18%
0.18%
0.18%
3-Yr. TCM
0.36%
0.36%
0.72%
5-Yr. TCM
0.70%
0.77%
1.58%
FHFB NMCR
3.93%
3.90%
4.84%
SAIF 11th Dist. COF
1.140%
1.163%
1.452%
HSH Nat'l Avg. Offer Rate
3.99%
4.12%
4.75%
Consumer moods are becoming more mixed. On one hand, some encouragement is seen in the weekly Bloomberg Consumer Comfort Index, where consumers are clearly responding to falling gasoline prices. The CCI rose by 1.2 points in the week ending June 10, rising to minus 36.4 for the week, the strongest reading since late April. However, that enthusiasm was not shared by those who responded to the initial University of Michigan survey of Consumer Sentiment; the early June reading slumped by 5.2 points, landing with a thud a a 74.1 mark. Should it hold this level, it would be the lowest reading this year. Gas prices are improving, but seemingly not enough to offset a headlines of an imploding Euro economy, erratic stock markets and headlines full of election-year rhetoric, let alone the slack job market.
And slack it is. Another 386,000 new applications for unemployment assistance were filed during the week ending June 9, underscoring the return to very muted prospects for employment. After a reasonable winter and early spring, job growth has ground to a virtual halt in recent months and there is nothing to suggest an imminent change in that trend.
With all this in play, it's little wonder that interest rates in general and mortgage rates in specific remain at or near record lows. If the Fed was to stop all present supports by letting OpTwist expire, we wonder: How much, if any, damage would it do? A lack of support suggest a slower economy, a slower economy suggests a weaker stock market and investors plowing even more into bonds, which would tend to lower rates even further.
One way or another, mortgage rates have little reason to move very much. The Greek elections over the weekend seem likely to spook the markets further, but which way they will turn is unclear at the moment. We get a couple of looks at the housing market next week, as the National Association of Homebuilders, Housing Starts and Existing Home Sales are all due out, among a handful of other reports. Figure on wobbly markets for much of the week, with mortgage rates ending about where they started.
For an longer-range outlook for rates and the economy, one which will take you up until late June, have a look at our new Two-Month Forecast.
———-
Like HARP 2.0? We think we have a better plan… for over a year now!
Have a look at our idea — read about HSH.com's Value Gap Refinance concept, and be sure to let us know what you think.
---