March 12, 2010 — Before too long, we're going to start to find out what "normal" mortgage markets may look like for the first time in a long time. There are only about two weeks remaining until the Federal Reserve's program of purchasing Mortgage-Backed Securities comes to a finale, and if one thing is clear, it's that there's not a great amount of clarity into what comes after.
The Fed meets on Tuesday next week for a one-day meeting, the shortest such event in over a year. Its more than likely that there will be discussions of contingency plans for mortgages should market conditions turn adverse in the months ahead, imperiling the relative stability forming in the housing market.
Want to get Market Trends as soon as it's published on Friday? Get it via email — subscribe here!
Although that's to come in the weeks and months ahead, this week's overall average for 30-year fixed-rate mortgages tracked by HSH.com in our FRMI shed another four basis points (.04%) this week, dropping to 5.30%, an exact match for the week ending 12/11/09. The FRMI includes conforming, jumbo and the GSE's "high-limit" conforming products in its calculation. The FRMI's 5/1 Hybrid ARM counterpart also dipped by four basis points to 4.44%, coincidentally also matching its December 11 mark. The 5/1 has been an a near-steady decline since a year-starting spike to 4.85%.
While few expect any change to the Fed's monetary policy, the lack of significant market reaction to its recent move to the discount window borrowing rate (the rate at which the Fed itself lends to banks) may prompt them to make another move before too long. Interbank lending has improved to the point where there are few actual requests for the Fed to provide funds, and increasing the cost of doing so has the simple effect of pushing would-be borrowers back into the open market for any needed funds. In that way, it promotes a more normal market.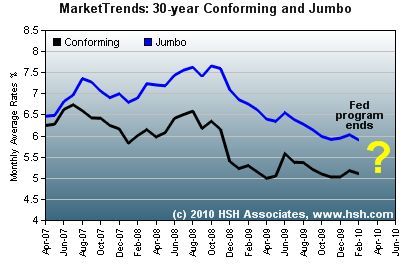 The Fed's exit from the mortgage market and newly-developing wrinkles which will affect mortgage rates in the coming months are the central theme of our new Two-Month Mortgage Rate Forecast, so be sure to take a read through it.
There wasn't much on the calendar for economic news this week, but a few things struck us as noteworthy. Since the expansion has been largely led by production, and reliant upon export growth for support, it was of some concern that the nation's imbalance of trade shrank during January. Both imports and exports posted declines — imports fared the worst — but both are indications that growth and demand aren't forming as quickly here or abroad as would be needed to produce firming economic growth. The trade deficit shrank from $40.2 billion to $37.3 billion during the month; its nadir was about $26 billion, and the expansion of the gap has been a signal that the economy was growing again. It still is, of course, but with somewhat less momentum at the moment.
Visit the HSH Finance blog for daily updates, consumer tips, and other things you need to know.

And follow us on Twitter for even more need-to-know news!
Retail sales firmed up nicely in February, rising by 0.3% at the headline, a figure which was actually diminished by the effects of soft auto and gasoline-station sales. Excluding those, 'core' retail sales powered ahead by 0.9%, and the recent pattern seems to indicate that consumers are starting to muscle in to the recovery process. Ultimately, that could have the effect of re-expanding the trade deficit, but for the moment, it has simply drawn down stockpiles of goods again.
Inventories at firms which wholesale goods to retailers declined by 0.2% in January, while the broadest measure of stockpiles across wholesale, retail and manufacturing remained unchanged. After a year-long drawdown of goods on hand, we saw October and November 2009 bounce to the rebuilding side of the ledger, but that gain produced no lasting momentum in production to date. The inventory report noted that sales have been steady for the past few months, and wholesalers and retailers may feel better about keeping the shelves full if this persists.
Our Statistical Release features charts and graphs
for 11 products, including Hybrid ARMs.

Our state-by-state statistics are now here.
Current Adjustable Rate Mortgage (ARM) Indexes
Index
For the Week Ending
Previous Year
Mar 05
Feb 05
Mar 06
6-Mo. TCM
0.19%
0.17%
0.42%
1-Yr. TCM
0.34%
0.33%
0.68%
3-Yr. TCM
1.36%
1.38%
1.33%
5-Yr. TCM
2.29%
2.33%
1.87%
FHFB NMCR
5.01%
4.92%
5.51%
SAIF 11th Dist. COF
1.786%
1.828%
2.757%
HSH Nat'l Avg. Offer Rate
5.34%
5.42%
5.80%
ARM indexes, APOR rates, Libor, usury ceilings, & more — all available from ARMindexes.com.

Email and webservice delivery are available.

Sources: FRB, OTS, HSH Associates.
Claims for new unemployment benefits have settled closer to the 450,000 mark, but the trend downward is terribly slow. During the week ending March 6, some 462,000 new applications for benefits were filed at state windows around the country, a meager drop of just 7,000 from the week prior. Although folks who have jobs are doing what they can to power the economy, it will be a long economic slog if we don't see hiring start before too long.
The difficult employment picture continues to keep moods depressed. There was no change in the weekly ABC News/Washington Post poll of Consumer Comfort during the week ending March 7, which is to say that it remains solidly in the bleak territory it has occupied for a long, long while. It's also keeping the University of Michigan survey of Consumer Sentiment from moving higher; its preliminary March value showed a slight decline — from 73.6 to 72.5 — and it would be hard to call the pattern over the past six months more than a modest improving trend, at best.
The movements in mortgage rates have surprised us a little in the past few weeks. Although there's been little pressure in one way or the other, the overall pattern has been one of slight but steady decline. The difference between 30-year fixed rate conforming and true private-market jumbo prices continues to narrow, and this week's 73 basis point differential is the smallest since November of 2007. Perhaps we will eventually return to a normal, privately influenced mortgage market after all. In the meanwhile, the economic calendar's a bit fuller next week and there is a Fed meeting. Does the trend of gently easing rates continue next week? Underlying interest rates seem to point to a slight lift, at least as we start the week.
For a longer view, don't forget to check out the brand-new Two-Month Forecast.
And, if you've got a moment, won't you please take our site survey and give us some feedback?
It's never too late to look ahead. If you've got a couple of minutes, you should check out our 2010 Outlook for Mortgage Markets and Rates. It covers what we think are the ten most important considerations for the market this year.
Our latest two-month forecast offers our predictions for the immediate future.
Want to comment on this Market Trends? Post it here — add your feedback, argue with us, or just tell us what you think.
And for today's top stories, see our HSH Finance blog. Want the latest news/advice/whatever? Follow us on Twitter.
Popularity: 3% [?]