December 31, 2009 — Residential mortgage rates bumped higher this week, ending 2009 on a rising note. Even with the four-week lift in rates, we are no worse off than we were as recently as mid-November, and still far, far below the June 2009 highs.
The overall average for 30-year fixed-rate mortgages tracked by HSH.com's FRMI found the indicator of conforming, jumbo and expanded conforming rates rising to to 5.59%, an 11 basis point increase. For Hybrid 5/1 ARMs, the average overall rate tipped 14 basis points higher, closing the holiday-shortened survey week at 4.85%. As expected, rates moved higher for both conforming and jumbo loans this week.
Want to get Market Trends as soon as it's published on Friday? Get it via email — subscribe here!
Markets mostly wandered around in their usual mid-holiday daze, so no new patterns or clear directions were revealed this week. Only a handful of important economic data were out.
One of the factors which has been helping rates to firm over the last few weeks is that the Federal Reserve ended its program of purchasing Treasury obligations, leaving the market to fend for itself. Compared to other market supports, the Fed's program wasn't a huge one, but did act as a sponge during times of excess supply, where demand in the private market was insufficient to mop up all the debt being issued. Over the last couple of weeks, that absorption capacity would have come in handy, since there has been a cascade of supply at a time of the year when there is considerably less demand to provide balance. With the laws of supply and demand being what they are, too much supply forces down the price of an item, and in the case of bonds, falling prices mean rising yields… and rising yields translate to firmer mortgage rates.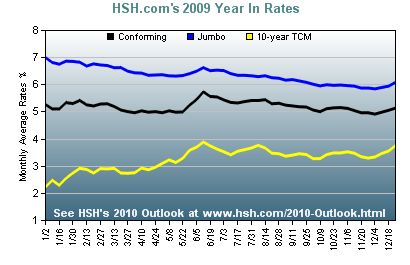 A couple of measures of consumer moods told similar stories. The Conference Board's gauge of Consumer Comfort ticked higher by a nice 2.3 points in December, but the 52.9 reading of their index continues a range-bound pattern which has existed since May.
Similarly, the weekly ABC News/Washington Post poll of Consumer Comfort for the week ending December 27 shed two ticks, easing to -44, just a week after touching the top of its range for the 2009. Both indicators are still flashing red for consumers, if less so than at their respective nadirs, but there is certainly no regular march to new highs happening at the moment. Perhaps 2010 will bring better moods.
That would and will be the case if hiring picks up. At present, indications are that the bleeding of jobs has slowed but not yet stopped. During the week ending December 26, only 432,000 (holiday-distorted) new applications for unemployment benefits were filed at state offices, easily the lowest of the year, but the picture won't become any clearer in this regard for a couple of weeks. Last year there was a huge multi-week dip in claims before they stormed higher. This year, we do seem to have broken the 500,000 mark solidly, and a slow downward trend seems likely to continue.

Daily FRMI rates are available on HSH.com.

Check out our weekly Statistical Release here (and archives here).

A few regional reports covering factory activity were mixed. A Chicago-area purchasing manager's index bumped considerably higher and handily beat expectations, but the Kansas City Federal Reserve Bank noted somewhat softer, though still growing, conditions in its district. Last week we expressed some concerns that the recovery-producing spike in manufacturing seemed to be weakening somewhat, and we're still of the mind that this is the case.
Visit the HSH Finance blog for daily updates, consumer tips, and other things you need to know.

And follow us on Twitter for even more need-to-know news!
Although we didn't have this information to work with at the time last week's Market Trends was written, the level of orders for Durable Goods in November seems to bear out our concerns. While rising from October's -0.6% figure, orders rose by only 0.2%, less than half the expected increase. The mild rise in orders seems to bear out to some degree our opinion of the ongoing strength in the manufacturing recovery. The rebuilding of over-slashed inventories seems to be the greatest driver of the recovery; with consumers not yet in a position to take control, we may find a softer GDP trajectory for Q409 and early 2010 than some are presently expecting.
Our Statistical Release features charts and graphs
for 11 products, including Hybrid ARMs.

Our state-by-state statistics are now here.
Current Adjustable Rate Mortgage (ARM) Indexes
Index
For the Week Ending
Previous Year
Dec 25
Nov 27
Dec 26
6-Mo. TCM
0.18%
0.14%
0.25%
1-Yr. TCM
0.41%
0.27%
0.40%
3-Yr. TCM
1.49%
1.22%
1.12%
5-Yr. TCM
2.50%
2.12%
1.50%
FHFB NMCR
5.01%
5.02%
6.16%
SAIF 11th Dist. COF
2.094%
1.259%
3.125%
HSH Nat'l Avg. Offer Rate
5.48%
5.29%
5.88%
ARM indexes, APOR rates, usury ceilings, & more — all available from ARMindexes.com.

Email and webservice delivery are available.

Sources: FRB, OTS, HSH Associates.
A three-day weekend is on tap, and markets are subdued. If typical seasonal patterns hold, even next week — the first of 2010 — will still have a soft tenor to it. After that, we'll start to see more typical market activity, and that should in turn provide some sense for the direction of interest rates for the mid-winter period. At the moment, rates have firmed to some degree, disappointing refinancers somewhat. Homebuyers, usually less needful of rock-bottom interest rates to foster a transaction, will probably shrug and move forward, provided rates don't continue to step higher in the coming days. At the close of this week, it seems that rise in underlying rates crested on Monday and has settled, so mortgage rates should halt their rise for next week, too.
As 2009 has been a difficult year for far too many people, plenty of folks are probably not sorry to see it go. Whether that's the case or not for you, we'd like to wish our readers, clients and friends a happy, healthy and prosperous 2010.
As promised, our 2010 Outlook for Mortgage Markets and Rates is out. It covers what we think are the ten most important considerations for the market next year.
Our latest two-month forecast offers our predictions for the immediate future.
Want to comment on this Market Trends? Post it here — add your feedback, argue with us, or just tell us what you think.
And for today's top stories, see our HSH Finance blog. Want the latest news/advice/whatever? Follow us on Twitter.
Popularity: 2% [?]