November 13, 2009 — Mortgage rates eased back a little bit this week. Although the price of money is quite attractive, the availability of it remains difficult for many borrowers.
HSH.com's overall average for mortgage rates measured by our Fixed-Rate Mortgage Indicator FRMI, declined by six basis points (0.06%) this week, as the average price of all loans — conforming, jumbo and agency jumbo combined fell to 5.35%. The overall average for 5/1 Hybrid ARMs shed five basis points, finishing the week at 4.61%.
For many wannabe mortgage borrowers, the structure of the market today could be likened to that of a group of penniless children staring in the candy-store window: You can look, but you can't buy.
Want to get Market Trends as soon as it's published on Friday? Get it via email — subscribe here!
The fact that credit conditions remain daunting comes as little surprise, as the risks of making loans to the consumer continue to remain at elevated levels. Those hoping to see some reprieve found little encouragement in the latest Senior Loan Officer Opinion Survey, released this week by the Fed and covering the third quarter of 2009. Even as financial markets are slowly healing, "About 25 percent of banks, on net, reported in the latest survey that they had tightened standards on prime residential real estate loans over the past three months," according to the survey. That's actually an increase from the 17% who reported tightening in the period ending in July. Given that virtually all mortgage loans in this market are either sold off to Fannie or Freddie, or backed by an FHA guarantee, why would more restrictive terms need to be put in place? Perhaps the increase in standards is only occurring for jumbo mortgages, since 72% of respondents noted "basically unchanged" underwriting standards. As well, perhaps the faintest glimmer of hope might be found in that just under 2% reported that their stance "eased somewhat," since there were zero who reported as much in the last three reports.
So even as credit standards remain restrictive, the price of mortgage money continues to improve. Relative to the benchmark 10-year Treasury Security, the mark-up for a Fed-manipulated conforming 30-year fixed is now back to a "normal" level of about 160 basis points. Jumbo 30-year FRMs — funded purely by portfolio lenders these days, as there is no secondary market to speak of — remain elevated, but that gap is now just about half its peak spread seen in December of 2008. It's still high, but is grindingly, grudgingly falling into line, with perhaps 60-70 basis points yet to go.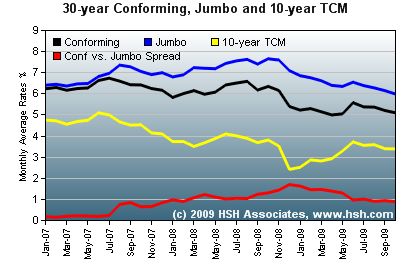 Conforming and jumbo 30-year fixed rates used to enjoy a differential of somewhere between one-eighth and three-eighths of a percentage point, a spread which ballooned to about nine times normal late last year; presently, that gap has been reduced to only about four times normal. This relationship would likely be almost normal if not for the influence of the Fed's MBS purchasing program; absent that, conforming rates would be higher (rather than jumbos falling to any degree). Still, mortgage credit conditions are improving, if barely, and its worth noting that borrowers don't pay "spreads", but rather nominal interest rates, which remain quite attractive.
Those lower rates did pull a few more refinancers into the market during the week ending November 6, and this week's slight dip in rates should get a few more off the fence before the seasonal holiday slowdown hits the mortgage market. Applications for home purchase loans began to slump weeks ago as the chance to get an application in place in advance of the (then) expiring tax credit ran out. The re-institution and expansion of that credit last week may help revive some demand.
Also as noted here last week, the Federal Reserve again committed to keeping rates low for a considerable period of time. They can do so because the labor market remains weak, and serious inflation pressures are essentially nowhere to be found. That said, the aggregate cost of imported goods rose by 0.7% in October, less than expected but above September's figure. Oil prices didn't figure much into the equation for the month as the move toward $80/barrel came largely over the past few weeks. Regardless, overall costs of imported goods are about 5.7% less this year than last. With the weak dollar in place, the value of exported goods rose by only 0.3% for the month, and there is little inflation to be exported either.
Visit the HSH Finance blog for daily updates, consumer tips, and other things you need to know.

And follow us on Twitter for even more need-to-know news!
That weak dollar, coupled with the somewhat improving economies of our trading partners meant a widening of the nation's imbalance of trade. That expanding gap, coming without inflation, is actually a very good signal that the recovery may be getting a little better toehold. Imports rose by 5.8% during September, while exports moved 2.9% higher, and the trade gap widened to $36.5 billion for the month. Prior to the economic collapse, we were running about a $60B/month differential.
That layoffs seem to be abating is a welcome sign, too. Although they remain a couple hundred thousand above the we're-solidly-on-the-road-to-recovery level, at least the 502,000 new applications for initial unemployment claims, filed during the week of November 7, were the lowest since early this year. Leaving out that seasonal adjustment error, new claims are now finally below year-ago levels, and the trend continues downward. It was last November when we tripped over the 500,000 mark on the way up, and it looks as though it will be November of this year that we'll step over it on the way down.
Our Statistical Release features charts and graphs
for 11 products, including Hybrid ARMs.

Our state-by-state statistics are now here.
Current Adjustable Rate Mortgage (ARM) Indexes
Index
For the Week Ending
Previous Year
Nov 06
Oct 09
Nov 07
6-Mo. TCM
0.16%
0.15%
0.93%
1-Yr. TCM
0.36%
0.36%
1.24%
3-Yr. TCM
1.44%
1.41%
1.65%
5-Yr. TCM
2.35%
2.24%
2.56%
FHFB NMCR
5.16%
5.25%
6.46%
SAIF 11th Dist. COF
1.272%
1.412%
2.693%
HSH Nat'l Avg. Offer Rate
5.41%
5.34%
6.88%
ARM indexes, APOR rates, usury ceilings, & more — all available from ARMindexes.com.

Email and webservice delivery are available.

Sources: FRB, OTS, HSH Associates.
Consumer moods aren't brightening, though. The initial survey of Consumer Sentiment from the University of Michigan for November saw a dip in their index, which fell back to a reading of 66. That was about the same level as August and would erase two much better months of moods, should it hold for the entire period. Perhaps it won't, as the weekly ABC News/Washington Post poll of Consumer Comfort has started to reverse its recent trend, climbing by three ticks to -46 during the week ending November 8. That's the best reading since late September.
A busier economic calendar is on tap next week. Measures of inflation, observations about the housing market, industrial health and forward-looking indicators are all due out. Mortgage rates have danced back to levels we've touched a couple of times this year, but if the pattern holds they probably won't hold these levels for long, as increases in demand for money push serve to firm those rates somewhat. To the extent that this occurs, its worth considering the approaching holiday season, when demands for funds typically wane. Could slightly lower rates be a feature of the markets at that time? It's not out of the realm of possibility by any means.
For next week, rates probably don't move much but do seem to have a slight downward trend to them at the moment. We were a little surprised that they slipped back this week, but that may continue next week.
Looking at the longer term? you'll need to read our latest two-month forecast.
Want to comment on this Market Trends? Post it here — add your feedback, argue with us, or just tell us what you think.
And for today's top stories, see our HSH Finance blog. Want the latest news/advice/whatever? Follow us on Twitter.
Popularity: unranked [?]