October 23, 2009 — Mortgage rates managed to finish a fairly turbulent week in the markets at a level unchanged from last week. There was a bit of underlying volatility to the stock and bond markets, though, which suggests that the quiet demeanor of rates this week probably won't last.
HSH's measure of the overall average for 30-year fixed-rate mortgages — including conforming, jumbo and agency jumbo pricing — remained unchanged, keeping our Fixed-Rate Mortgage Indicator FRMI at 5.42%. A minor increase of three basis points (.03%) for conforming loans (and just one BP for agency jumbos) was offset by couple-of-basis-point drop in Jumbo 30-year FRMs. Five-one Hybrid ARMs took back a little better than half last week's increase, easing by three basis points to 4.69%.
Want to get Market Trends as soon as it's published on Friday? Get it via email — subscribe here!
The Federal Reserve released its regular survey of regional economic conditions this week. Commonly called the "beige book" for the color of its cover, it anecdotally details how the economy is performing across the country. Signals that the economic recovery is taking hold were evident; the report summary noted that "either stabilization or modest improvements in many sectors [had occurred] since the last report," and that "Reports of gains in economic activity generally outnumber declines, but virtually every reference to improvement was qualified as either small or scattered." While some forecasts are calling for perhaps a GDP reading of as high as 3% for the third quarter, it's becoming more clear to us that it will be more of a "technical" recovery for some time. It's worth noting, however, that "Leading the more positive sector reports among Districts were residential real estate and manufacturing…", which remain two of the hardest hit components of the economy during this recession.
Additional fresh news about the nation's housing markets was fairly upbeat, if uneven. Existing Home Sales, powered by low mortgage rates and low home prices, and additionally goosed by a fast-approaching expiry of the $8,000 "first time" homebuyer tax credit, leapt by 9.4% in September. The 5.57 million (annualized) rate of sale was the highest in over two years, and prices firmed while inventories dropped to a closer-to-normal 7.8 months of supply. The supply figures don't count all the inventory on the market, though, as they may not fully count short sales and foreclosure dispositions. While the trend is encouraging, how long it will last is an open question.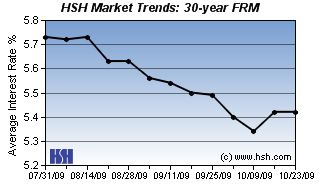 The National Association of Home Builders index of member sentiment for October eased back to a reading of 18, indicating increasing pessimism at the state of the new home market. Both present traffic levels and expectations for sales for the next six months turned downward. Certainly, it's possible the would-be homebuyers are opting for cheaper old stock rather than new, or that new home sales are more profoundly affected by the tax credit deadline. Whatever the reason, an even bleaker outlook might be expected as other housing-related supports expire. That being the case, it's little wonder that starts of new homes remain in a holding pattern. In September, new starts rang in at a muted 590,000 level, just about exactly the same as they've been for the last four months, if still considerably better than the lows of earlier this year. Permits for future activity were also about the same as August, so there seems to be little momentum or enthusiasm for the near future building here.
Although a very weak currency hasn't yet sparked inflation, the sorry state of the dollar is seeing investment money pumping up commodity prices such as gold, other metals, etc. The recent jump in oil prices — coming despite tepid world demand and bloated inventories — may suggest that run-ups in some materials prices have run their course, perhaps leaving oil as the next "undervalued" candidate. The world is awash in money, and it needs to go someplace. Stocks have risen 50% above their lows (and will need solid economic growth to move higher); Treasuries are already getting a serious bid, as are corporate debt offerings; gold and other commodities have risen sharply, producing gains for investors. Oil had an economy-wrecking run to $150/barrel before collapsing, and wary investors probably won't push prices that high again anytime soon. However, persistently higher fuel costs — at the gas pump, filling the home oil tank — will serve to both sap consumer spending power, erode profits and increase the likelihood that inflation will creep back in. After all, it was a energy-led spike which fostered a CPI as high as 5.4% as recently as July 2008, contributing to the severity of the downturn by sapping available dollars which would otherwise have helped prop up consumer spending.

Daily FRMI rates are available on our website.

Check out our weekly Statistical Release here (and archives here).

Still, prices are not yet a problem. The Producer Price Index actually sported a 0.6% decline in September. Forecasts called for an increase of 1%, so they missed the mark by a wide margin. At the "headline" level, PPI has declined by some 4.7% over the past twelve months, but stripping it down to its "core" level finds a 1.8% increase in prices over that time.
Two more banks were taken over by regulators on Friday, bringing the total to 101 since the downturn began. Surprisingly, another bank in Georgia was among them; that state now accounts for about 20% of all the failures to date. Expectations are that many more, perhaps hundreds more, will fail before all the financial market mess has been wrung out of the economy.
Visit the HSH Finance blog for daily updates, consumer tips, and other things you need to know.

And follow us on Twitter for even more need-to-know news!
If the index of Leading Economic Indicators can be trusted, that outlook is getting brighter. The LEI put in a sixth consecutive positive reading in September, rising a stout 1% and purportedly forecasting that growth should be on the increase in the period which runs into early next year. Although the indicator usually reflects present conditions rather than forecasting future ones, we certainly hope it is correctly pointing the direction for the economy.
Our Statistical Release features charts and graphs
for 11 products, including Hybrid ARMs.

Our state-by-state statistics are now here.
Current Adjustable Rate Mortgage (ARM) Indexes
Index
For the Week Ending
Previous Year
Oct 16
Sep 18
Oct 17
6-Mo. TCM
0.16%
0.20%
1.11%
1-Yr. TCM
0.36%
0.40%
1.25%
3-Yr. TCM
1.47%
1.52%
1.94%
5-Yr. TCM
2.36%
2.43%
2.90%
FHFB NMCR
5.25%
5.26%
6.41%
SAIF 11th Dist. COF
1.412%
1.473%
2.698%
HSH Nat'l Avg. Offer Rate
5.42%
5.50%
7.08%
ARM indexes, APOR rates, usury ceilings, & more — all available from ARMindexes.com.

Email and webservice delivery are available.

Sources: FRB, OTS, HSH Associates.
If so, perhaps some of the 531,000 new folks hoping for unemployment benefits will be able to find a job or be rehired by the firms which terminated them. That number covering the week ending October 17 was a bit of a turnaround from a recent trend which has been bringing us closer to cracking the 500,000 mark. The flare in unemployment claims and the continuing general state of economic malaise probably both contributed to the downturn in the weekly ABC News/Washington Post poll of Consumer Comfort, which, at a reading of -50 is again approaching all-time lows.
By all appearances, it's going to be a slow, tepid recovery for the vast majority of Americans, not matter what the new GDP report says when it comes out next Thursday. The technical "recovery" — perhaps better thought of at this stage as a correction to overzealous reductions in output driven by global fear and panic — has a long, long way to go before it involves enough people to become self-sustaining and may need continued supports to get us there. Until then, we may see increasing volatility in markets as the fits and starts pattern of growth reveals itself.
We'll see how that all plays out over time. However, in the immediate future, we think mortgage rates may nudge a little bit higher next week.
Longer term? you'll need to read our latest two-month forecast.
Want to comment on this Market Trends? Post it here — add your feedback, argue with us, or just tell us what you think.
And for today's top stories, see our HSH Finance blog. Want the latest news/advice/whatever? Follow us on Twitter.
Popularity: unranked [?]