October 9, 2009 — Continuing an easing pattern that's been ongoing since about mid-August, mortgage rates trended down a little bit more this week. Accompanied by rising stock and gold prices, it would seem that investor money which has been "on the sidelines" is starting to make its way into the market. The Dow Jones Industrial Average is again within shouting range of 10,000 mark and has risen a full 50% from the year's low, while bond yields continue to be fairly subdued.
HSH's measure of the overall average for 30-year fixed-rate mortgages — including conforming, jumbo and agency jumbo pricing — shed six basis points (.06%), pushing our Fixed-Rate Mortgage Indicator FRMI down to 5.34%.
The FRMI's 5/1 Hybrid ARM counterpart declined by seven basis points, closing the survey week at an average 4.67%.
Want to get Market Trends as soon as it's published on Friday? Get it via email — subscribe here!
Conforming 30-year FRMs have again descended to levels seen earlier this year, when they spent a nine-week period jumping back and forth over the 5% mark. Those rates have been artificially manipulated to low levels by the influence of the Federal Reserve and other government agencies.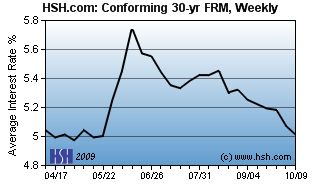 However, things are starting to improve somewhat in what remains of the private non-conforming mortgage market. This week's 5.96% average for a 30-year jumbo FRM was its first foray below 6% since September 9, 2005. It's worth noting that jumbos have sported a lower average rate in just 49 of the 509 weeks which have elapsed since Y2K — and that the "bottom of the bottom" noted during that period was only about 40 basis points (.40%) below this week's figure.
While the availability of certain kinds of credit might still make getting a loan difficult, the price of that money has rarely been better. Borrowers have noticed this, too, and with the weeks-long gentle decline in rates has come increasing purchase and refinance activity. The Mortgage Bankers Association noted better than a 13% gain in purchase applications and a 18% gain for refis.
Hopefully, those refinances will serve to recast balance sheets for households looking for extra cash to spend and/or to further pay down outstanding obligations. If borrowing patterns are any indication, any new spending will have to come either from income or from savings, since there was another sizable decline in consumer borrowing in August. While the $12 billion reduction in outstanding credit balances was smaller than July's figure, there have been only two increases in aggregate borrowing over the past year — and meager ones at that. Use of credit cards fell at an annual rate of over 12% during the month, and even financing needs for "cash-for-clunkers" failed to provide any lift in the installment-loan category. The more consumers continue to "de-leverage," the harder it will be for the economy to get more fully up to speed, since consumer spending is responsible for about 70% of economic growth.
While more hiring would be a welcome change and would help to provide the incomes which make more spending possible, we'll have to content ourselves with a gentler pattern for layoffs. During the week ending October 3, another 521,000 new claims for unemployment benefits were filed at state offices — but that number was the lowest such figure since January. It will be a very encouraging sign if new claims could break through the 500,000 barrier, a level we've not tested since last November (except for a holiday-induced downward spike last December).

Daily FRMI rates are available on our website.

Check out our weekly Statistical Release here (and archives here).

There has been a gradual improvement in the hiring component of the Institute of Supply Management's survey of service-related business. The 'headline' ISM service figure jumped into the positive side of the ledger for the first time since August 2008; its reading of 50.9 was both above expectations and a substantial improvement over the mid-30's levels of last November. While the employment sub-index wasn't quite as rosy, it continues to grind its way back toward a breakeven level.
The same grinding effort is underway for inventories at the nation's wholesalers. These intermediaries between manufacturer and retailer have been reducing stockpiles for about a year now. Over the last four months, sales have turned positive, so the drawdown seems to have accelerated to a point where new orders should begin to flow fairly soon, barring any collapse in demand.
Visit the HSH Finance blog for daily updates, consumer tips, and other things you need to know.

And follow us on Twitter for even more need-to-know news!
The nation's imbalance of trade continues to hold at mild levels, with a gap of $30.7 billion records in August. With the weakening dollar, exports rose by 0.2%, while imports eased by 0.6%. Petroleum costs have been firm but rangebound for the past few months, but the continued devaluation of the greenback may start to cause some upward pressure in the prices of imported goods.
Our Statistical Release features charts and graphs
for 11 products, including Hybrid ARMs.

Our state-by-state statistics are now here.
Current Adjustable Rate Mortgage (ARM) Indexes
Index
For the Week Ending
Previous Year
Oct 02
Sep 04
Oct 03
6-Mo. TCM
0.17%
0.23%
1.39%
1-Yr. TCM
0.39%
0.42%
1.59%
3-Yr. TCM
1.43%
1.44%
2.03%
5-Yr. TCM
2.28%
2.33%
2.77%
FHFB NMCR
5.25%
5.26%
6.41%
SAIF 11th Dist. COF
1.412%
1.473%
2.698%
HSH Nat'l Avg. Offer Rate
5.40%
5.56%
6.73%
ARM indexes, APOR rates, usury ceilings, & more — all available from ARMindexes.com.

Email and webservice delivery are available.

Sources: FRB, OTS, HSH Associates.
Consumer moods continue to wander in a directionless range, with the latest ABC News/Washington Post poll of Consumer Comfort ringing in at -45 for the week ending October 4.
Mortgage rates were lower earlier in the week than later. Monday and Tuesday saw the first back-to-back days of below-5% 30-year conforming rates since mid-May, but rates on Wednesday, Thursday and Friday crept back over the 5% mark. A rally in stocks on Thursday and Friday seemed to pull some of that safe-house money out of Treasuries and into other markets, pushing the yield on the 10-year Treasury by about a tenth-percent at week's end. That being the case, mortgage rates will probably start next week on a firmer note, but only mildly so, and probably without conviction or impetus for any sustained rise. We'll get some news on retail sales, inflation and some insight into the Federal Reserve's thinking as the week progresses, too.
Check out our latest two-month forecast.
Want to comment on this Market Trends? Post it here — add your feedback, argue with us, or just tell us what you think.
And for today's top stories, see our HSH Finance blog. Want the latest news/advice/whatever? Follow us on Twitter.
Popularity: unranked [?]