June 1, 2012 — Another week of sell-offs in global stock markets saw investors running for cover in the world's safest markets. Money has roared into Treasuries, German Bunds and other fairly safe sovereign debt markets, driving yields down to record lows. Such is the panic of investors to try to save their principal investments that some of these instruments now feature negative returns, once inflation is factored in.
Mortgage rates are being pressed lower, dragged there by the influence of slumping long-term rates. That the US economy is throwing off mixed signals at best doesn't help matters much, and low rates are a symptom of the sickness and also part of a hoped-for cure.
HSH.com's broad-market mortgage tracker — our weekly Fixed-Rate Mortgage Indicator (FRMI) — found that the overall average rate for 30-year fixed-rate mortgages slipped by three basis points (0.03%) for the week to 4.03%, producing a new record two basis points below the old. The FRMI's 15-year companion also shed three basis points (0.03%), nudging to a new record low of 3.29%. Important to homebuyers and low-equity-stake refinancers, already-low FHA-backed 30-year mortgages drifted into new territory, falling by another two basis points to 3.68%, while the overall average rate for 5/1 Hybrid ARMs returned to record lows of 2.92% during the survey period. Conforming 30-year FRMs closed the week at 3.85%, but Friday featured a daily average of 3.75%, the lowest reading yet.
See this week's Statistical Release and Trend Graphs.
Want to get Market Trends as soon as it's published on Friday? Get it via email — subscribe here!
Mortgage rates are falling, but just gently compared to the huge downward spike in Treasury yields. This speaks to the relative demand for the two instruments, as there seems to be an insatiable appetite for government-backed debt. However, investing in mortgages isn't nearly as liquid as treasuries, and a soft economy here simply exacerbates the additional risk of holding mortgages, which can prepay or default at any time.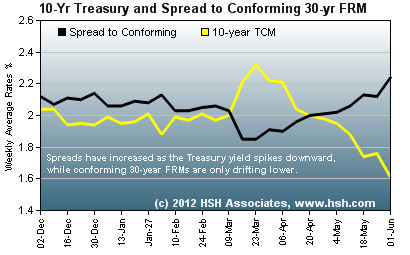 It's not as though the economy started 2012 on a fast note, either. The second revision for GDP for the first quarter featured a downgrade to just 1.9% for the period, even more anemic than the 2.2% initial estimate. While there have been some signals that the second quarter is a little warmer, we might only be running at perhaps 2.4% pace at best right now, when closer to a 3% rate on a sustained basis is needed to get us out of the economic mire. Given the troubles around us, that seems less likely to happen anytime soon.
That's especially the case given the near-standstill for hiring. After a pretty strong Dec-Feb period averaging well over 200,000 new jobs created each month, the last three months have been weaker and weaker. May saw just 69,000 new jobs created, and there were downward revisions to April (now just 77K) and March as well. The nation's rate of unemployment ticked up by a tenth percentage point to 8.2%, as a few more people jumped in to look for work during the month. Without regular and sizable job creation it becomes difficult to power consumer spending ahead. It is fortunate and beneficial that energy prices are falling, since this adds billions of spendable dollars back in the broad economy, if folks have the confidence to spend rather than save them.

HSH has several lengthy series of statistics dating back to the 1980s for FRMs and ARMs, Conforming, Jumbo and FHA products. These can be licensed for use — interested parties should inquire here.
Personal Incomes did nudge 0.2% higher in April, but that was actually less than the trend has been over the past few months. Wage growth for the month was also 0.2%, its softest showing since December. Personal consumption expenditures rose by 0.3% for the month, and more outgo than income of course drove the nation's rate of saving down to just 3.4%. With savings thinning out, consumers may start to replenish them, which would tend to slow spending, or may need to start borrowing to finance consumption, which seems unlikely given the trend of the last few years.
Layoffs have moved higher again. After a long run downward from early in the year, initial unemployment claims spiked higher during April, then settled to a new, higher range of about 372,000 on average during May, but flared upward to 383,000 new claims in the week ending May 26. The move upward is another item which may engender caution on the part of consumers with regard to spending.
Mixed signals on consumer attitudes are prevalent. After the University of Michigan survey of Consumer Sentiment floated to a four-year high for May, the Conference Board's measure of Consumer Confidence did an about face, with this indicator falling by 3.8 points for the month to land at a 64.9 value, the second lowest of 2012. Evaluations of both present and future conditions declined, so optimism seems on the wane at the moment. On the other hand, the weekly Bloomberg Consumer Confidence measure improved a little, rising by 2.7 points to minus 39.3 for the week ending May 27, its highest value in a month's time.
The softer tone of the economy has spread to some degree to manufacturing of late. The Institute for Supply Management survey of members returned an overall May value of 53.5, down from April's 54.8 but still fairly above a reading of 50 which indicates factory activity at a standstill. Current production and employment sub-indicators did also slip for the month, but new orders picked up, a hopeful sign for the months just ahead. That said, a local purchasing manager trade group in the Chicago area reported that their similarly-constructed indicator fell to a value of 52.7 for the month, it's lowest since September 2009, so the slowing may be more pronounced in some areas than others.
Some of that localized decline may be due to a softening in sales of new cars and trucks. According to AutoData, those sales put in their weakest showing of 2012, slipping to a 13.8 million (annualized) rate of sale in May, down from about 14.4 million in April. At least some of the upturn in sales over the past year has been the replacement of an aging fleet, but those replacements only will come in a regular basis in the context of firmer economic and job growth, and prospects for these are uncertain at the moment.
Construction spending eked out a 0.3% gain in April, driven higher by a 2.8% increase in outlays for residential construction projects, but reeled back in by a 1.4% decline in public outlays and a 0.2% drop in commercial projects. Sales of new homes have climbed off the floor over the past new months but remain well below normal. Of course, record low mortgage are a spur to wanna-be homebuyers, and the durable period of low interest rates has allowed for the execution of plans to buy at anticipated costs without the kind of interruption a spike in rates would bring.
Visit the HSH Finance blog for daily updates, consumer tips, and other things you need to know.

And follow us on Twitter for even more need-to-know news!
Our Statistical Release features charts and graphs
for 11 products, including Hybrid ARMs.
Our state-by-state statistics are now here.
Current Adjustable Rate Mortgage (ARM) Indexes
Index
For the Week Ending
Previous Year
May 25
Apr 27
May 27
6-Mo. TCM
0.14%
0.14%
0.10%
1-Yr. TCM
0.21%
0.18%
0.19%
3-Yr. TCM
0.41%
0.39%
0.87%
5-Yr. TCM
0.76%
0.84%
1.77%
FHFB NMCR
3.93%
3.90%
4.84%
SAIF 11th Dist. COF
1.140%
1.163%
1.452%
HSH Nat'l Avg. Offer Rate
4.06%
4.17%
4.88%
Given the already gray economic skies here and the black clouds not that far off in the distance from the Euro zone troubles, we can't help wonder if the call of borrowing at record low rates is being more than partially tempered by a sense of unease about the economic climate just ahead. Early in the recession, consumers hunkered down, stopped spending and generally ran away from anything related to risk; the stock market sank, the economic situation worsened, and energy and home prices cratered. To be sure, we are in a different place at the moment, but the ground doesn't seem as trustworthy as it was just a few months ago.
Perhaps this will only become a soft patch, and we'll escape much damage. Perhaps our economy is strong enough to power past it. Perhaps the fall in energy and gasoline costs will allow for an offset to any downward pull. Ultimately, panic will subside, but the damage may leave us with an ongoing sluggish recovery that even the benefit of lower interest rates may fail to fix.
Given all the troubles so evident, it's hard to gin up much optimism. There will be some clues next week as to whether weakness is spreading. These will come in the form of the ISM Services, the Fed's regional survey of economic conditions ("beige book"), consumer borrowing and factory orders. While all eyes have been on Europe for the past few months, its a fair bet that at least some focus will turn here after weak back-to-back employment reports.
Mortgage rates seem determined and destined to be lower next week. The decline should be a handful of basis points, perhaps more if the ISM and beige book reports fail to provide some hope. New record lows, again.
For an longer-range outlook for rates and the economy, one which will take you up until late June, have a look at our new Two-Month Forecast.
———-
Like HARP 2.0? We think we have a better plan… for over a year now!
Have a look at our idea — read about HSH.com's Value Gap Refinance concept, and be sure to let us know what you think.
---