May 25, 2012 — The ringing sound of record low mortgage rates is greeting the unofficial start of Summer. Typically a sleepier time of year for the housing market, the incessant clang appears to be serving as a wake up call to potential homeowners. Should current trends persist, we may have a Summer housing market of note in 2012, rather than only the traditional Spring one.
For their part, mortgage rates have not been lower in multiple generations and we reckon them to be at least 60-year lows at the moment.
HSH.com's broad-market mortgage tracker — our weekly Fixed-Rate Mortgage Indicator (FRMI) — found that the overall average rate for 30-year fixed-rate mortgages rose by a single basis point (0.01%) for the week to 4.06%, just one basis point above last week's new record low. The FRMI's 15-year companion increased by two basis points (0.02%), nudging just above record lows to 3.32%. Important to homebuyers and low-equity-stake refinancers, already-low FHA-backed 30-year mortgages sprinted into new territory, falling by another five basis points to 3.70%, while the overall average rate for 5/1 Hybrid ARMs gained by two basis points (0.02%), finishing at 2.94% for the survey period. After sporting new lows earlier in the week, conforming 30-year FRMs rose a single basis point.
See this week's Statistical Release and Trend Graphs.
Want to get Market Trends as soon as it's published on Friday? Get it via email — subscribe here!
While by no means booming, home sales are starting to improve. Low rates of course matter in this regard, but perhaps as important is that these low rates have been durable, with a stretch now of six months of conforming 30-year FRMs moving in a range from 4.17% as a high to last week's 3.87% as a low. A long stretch of stable-to-falling rates allows potential homebuyers the time needed to research, plan and execute a transaction to buy a home without concern of a spike in rates, which can upset deals at a moment's notice.
Sales of existing homes gained by 3.4% in April, rising to a 4.62 million annualized rate of sale for the month. The upturn in demand was met with an even larger upturn in supply; it would seem that at least some homes which had been pulled off the market were put back on in hopes of catching some of the increased traffic in local markets. As such, inventory levels moved up to 6.6 months of available stock at the present rate of sale. Higher supplies can add additional pressure to home prices, but that wasn't the case in April. Home prices rose by over 10% from March, as the composition of sales for the month was said to have included fewer sales of "distressed" homes. With a backlog of homes in foreclosure still to enter the market, home prices are unlikely to see strong gains going forward.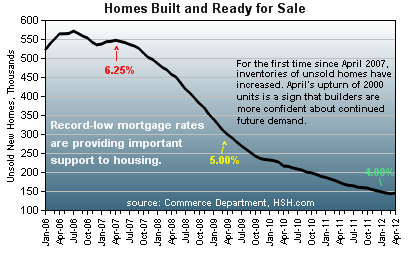 Sales of new homes moved higher in April, too, recovering some of March's minor decline. The 3.3% increase in sales moved the needle up to a 343,000 annualized rate, but supplies of unsold homes remain at a tight 5.1 months. Of note in the report was that after a full five years of declines, builders actually added 2,000 units to inventory during the month. This is a signal that confidence is growing in housing, and that the demand being seen in the market is expected to persist and possibly increase. Although only one month, is it nonetheless an encouraging sign that we may be nearing a corner for the market, if not actually turning is as of yet.
Economically, April was a better month than was March. The Chicago Federal Reserve's National Activity index rose from a minus 0.44 in March to a positive 0.11 in April, returning to a moderately above-trend level. The NAI is an amalgam of 85 economic indicators; with a breakeven of zero, it seeks to show that the economy is growing above or below its natural trend. That trend is believed to be about a GDP level of 2.8% or perhaps a little less, and we seem to have again accelerated a little after a soft end to the first quarter of 2012.

HSH has several lengthy series of statistics dating back to the 1980s for FRMs and ARMs, Conforming, Jumbo and FHA products. These can be licensed for use — interested parties should inquire here.
Of course, gaining economic steam would be wonderful, especially given all the drag happening from the European fiscal mess. One important support, should it persist, is the decline in gasoline prices. Every dollar not spent on gas or diesel is a dollar which can be spread around the economy to greater benefit, and steady declines in the end of 2011 gave us GDP growth of 3%. When prices steadily climbed in the first quarter of 2012, growth slowed to a 2.2% level, perhaps less.
The stabilization in new claims for unemployment benefits over the last couple of weeks suggests that we are likely to see a better employment report for May than we had for April. New claims came in at 370,000 during the week ending May 19 and now are part of a three-week flatline at this level. Compared against the first three weeks of April, we are about 20,000 claims lower on average at the moment. When new hires are announced next Friday, we think we'll be around 150,000 new jobs created, up from the 115K number for April.
Orders for durable goods moved 0.2% higher in April, a bit of a rebound after a 3.7% decline in March. Orders are usually erratic but have been somewhat more so in 2012, with wide swings evident. Perhaps the slight gain last month is a sign of some stabilization, but orders by businesses were rather soft for the period.
As we noted last week, the economic data has been a little bit of mix and match of late, especially in terms of factory activity. Two reports covering different Federal Reserve districts moved in different directions in May, with the Richmond Federal Reserve's indicator of local activity easing to a value of 4 from 14 in April, its lowest reading of 2012. Over in the Kansas City district, though, a resumption of activity was seen, and their measuring tool rose from 3 in April to 9 in May, as production and new orders rose.
Consumer moods are improving again; perhaps lower gas prices are adding some optimism of late. The weekly Bloomberg Consumer Comfort Index partially reversed a four-week decline, adding 1.6 points to climb to minus 42.0 during the week ending May 20. More improvement was noted in the University of Michigan survey of Consumer Sentiment, which finished May with a final value of 79.3, a gain of 2.9 points and a four-year high for the index. Current conditions and expectations for the future both rose for the month, while expectations for inflation diminished.
Visit the HSH Finance blog for daily updates, consumer tips, and other things you need to know.

And follow us on Twitter for even more need-to-know news!
Our Statistical Release features charts and graphs
for 11 products, including Hybrid ARMs.
Our state-by-state statistics are now here.
Current Adjustable Rate Mortgage (ARM) Indexes
Index
For the Week Ending
Previous Year
May 18
Apr 20
May 20
6-Mo. TCM
0.15%
0.13%
0.08%
1-Yr. TCM
0.20%
0.18%
0.19%
3-Yr. TCM
0.39%
0.41%
0.93%
5-Yr. TCM
0.74%
0.86%
1.83%
FHFB NMCR
3.90%
4.08%
4.79%
SAIF 11th Dist. COF
1.163%
1.206%
1.469%
HSH Nat'l Avg. Offer Rate
4.05%
4.19%
4.90%
Mortgage and interest rates continue to benefit from financial turmoil overseas, a modestly growing economy here in the US and stable to retreating inflation. Already at or near record lows, how low can interest rates and mortgage rates go? It is always worth remembering that a poor outlook helps create the lowest interest rates, especially if inflation is at bay. That said, even modest improvements in the outlook can foster higher interest rates, as we saw back in February when things were looking comparatively rosy relative to now. With the troubled outlook, it's harder to expect that companies will make money, and so investors pull cash out of stocks and other 'riskier' investments and stuff it into bonds for safety. However, there are limits to this.
At some point, and absent any worsening, markets generally become accustomed to the new environment (however troubled) and money will start to leak out of bonds and back in to riskier (but possibly better performing) opportunities, and interest rates will firm up to some degree. A strong employment report, a flare in inflation, a boost to GDP growth and a even a whisper of solution for the Eurozone would provide sufficient spark to press rates higher. Of those, the "become accustomed" seems most likely to happen first, as we would need a couple of months of strong employment reports and at least one strong GDP or inflation reading to attract attention and move the market much.
For now, rates seem likely to hold near these levels for a while. A long weekend is on tap followed by a couple of light days in terms of data. We seem to have flattened out, and would expect a wobble of a couple of basis points in either direction at most by the end of next week.
For an longer-range outlook for rates and the economy, one which will take you up until late June, have a look at our new Two-Month Forecast.
———-
Like HARP 2.0? We think we have a better plan… for over a year now!
Have a look at our idea — read about HSH.com's Value Gap Refinance concept, and be sure to let us know what you think.
---