February 24, 2012 — A drumbeat of better economic news finally got loud enough for markets to notice. Coupled with a generally-climbing stock market, interest rates firmed a little. Mortgage rates moved to former record-high levels this week, levels which were trumpeted far and wide just a few weeks ago.
The minor move is simply a subtle reminder that yes, interest rates can also rise. At some point, they will ultimately do so, and on a regular basis. With rates so low for so long, some perspective as to what "normal" interest rates are is getting a little lost.
HSH.com's broad-market mortgage tracker — our weekly Fixed-Rate Mortgage Indicator (FRMI) — found that the overall average rate for 30-year fixed-rate mortgages rose by seven basis points (.07%) from last week, jumping back to an average 4.25%, about where it was in the last week of January. The FRMI's 15-year companion increased by four basis points (.04%) to finish the weekly survey at an average 3.51%. Important to homebuyers and low-equity-stake refinancers, FHA-backed 30-year mortgages broke a long string of declines, rising by five hundredths of a percentage point to 3.86%, while the overall average for 5/1 Hybrid ARMs rose just two basis points to move to 3.02%.
See this week's Statistical Release and Trend Graphs.
Want to get Market Trends as soon as it's published on Friday? Get it via email — subscribe here!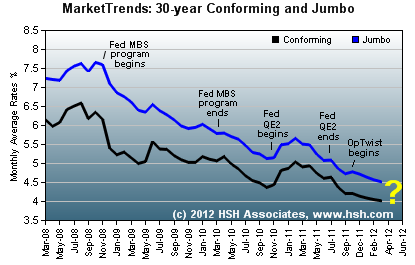 There is at least some momentum in the economy, and signs are appearing that the recovery in broadening. This is a good thing, given that there are some forming or strengthening headwinds. The first has been seen in many headlines of late: rising gasoline prices. Higher fuel costs act as a tax on the economy, sapping billions of dollars from more broad and beneficial spending and funneling them right into the gas tank. It has been noted that the recently-extended payroll tax reduction will be fully eaten up by the 15% (or more) hike in retail gas prices. It is worth pointing out that growth was accelerating as prices declined last year, with GDP rising from 1.33% in the second quarter (when prices were nearly $4 per gallon) to 2.75% GDP as prices bottomed in December. Should price increases persist, some slowing in growth should be expected.
Some slowing may come as a result of the Eurozone getting its fiscal house more in order. Austerity measures to better align sovereign income and outgo are expected to produce a mild downturn in growth this year, and that of course affects our ability to use exports to grow. Slower growth there means less demand for our goods and services, and that will tend to temper growth somewhat. For the moment, though, manufacturing activity seems solid. As evidence, an indicator of activity in the Kansas City Federal Reserve district rose from 7 in January to 13 in February, the highest value in eight months.

HSH has several lengthy series of statistics dating back to the 1980s for FRMs and ARMs, Conforming, Jumbo and FHA products. These can be licensed for use — interested parties should inquire here.
Will things work out better than expected? Hard to say, but some forecasts put our own growth for 2012 not much better than we have at the moment. There's nothing wrong with mid-to-high 2% GDP, but it would not be strong enough to foster the kind of confidence businesses need to hire, perpetuating the lumbering pace for longer.
That's arguably to be seen in unemployment claims. During the week ending February 18, just 351,000 new applications for benefits were filed at state windows, unchanged from a week prior. That businesses have slowed layoffs to the lowest levels of the recovery indicates that activity has picked up enough to keep people on the books, but also that there's only some need to actually add new workers to the payroll. Job growth has been better of late, if still slow, and we won't see how February turned out for another couple of weeks yet. There's no reason to not expect another 200,000 number for new hires for the month, but it would be about the same as the last couple of months rather than an acceleration.
The Chicago Fed's National Activity Indicator (an amalgam of some 85 economic indicators) put in a second consecutive month in positive territory, the first time that has happened since April and May of 2010. The 0.22 value for January suggests that the economy is growing a little above its "potential", reckoned to be a GDP of about 2.8% or so. December's value was tripled from its original reading, with the 0.54 figure the highest seen in this series since 2006. After a stumbly patch Last year ended with a flourish, and this year is starting on a positive note.
Want to know the factors which will influence the housing and mortgage markets this year? You should check out HSH.com's Outlook: 12 Questions for 2012 It covers everything from expected Fed policy to a long-range forecast for mortgage rates and lots more.
That positive note is being reflected in consumer attitudes. The final February report on Consumer Sentiment from the University of Michigan nudged to 75.3, up 0.3 ticks from January and the highest since last February. Sentiment got crushed last year amid any number of troubles but has now just about fully rebounded. That said, it was hopes for the future which moved the needle higher this month, as the evaluation of present conditions darkened a little.
The needle also moved higher for the Bloomberg Consumer Comfort Index. For the week ending February 19, a value of minus 38.4 was seen, the highest of the recovery to date and a continuation of a six-week march higher. It is the highest reading of the recovery to date, but at that, is still soundly negative. It is approaching five years since the last time we saw a reading above zero in this series. Perhaps a re-calibration to reflect the "new normal" may be in order at some point.
As we've noted a number of times over the last few months, sales of homes are improving, and that trend largely continued in January. Sales of existing homes rose by 4.3% in January when compared against a downwardly-revised December figure. During the month, an annualized 4.57 million rate of sale was seen, the strongest pace in just under two years. Inventory levels moved lower to 6.1 months, closer to normal levels, but home prices continue to slip when compared against a year ago. There is expected to be a rise in available inventory this year as the foreclosure process resumes, and if sales are ticking up it's reasonable to expect that some homes formerly for sale will come back onto the market, too.
Visit the HSH Finance blog for daily updates, consumer tips, and other things you need to know.

And follow us on Twitter for even more need-to-know news!
Our Statistical Release features charts and graphs
for 11 products, including Hybrid ARMs.
Our state-by-state statistics are now here.
Current Adjustable Rate Mortgage (ARM) Indexes
Index
For the Week Ending
Previous Year
Feb 17
Jan 20
Feb 18
6-Mo. TCM
0.14%
0.07%
0.16%
1-Yr. TCM
0.17%
0.11%
0.29%
3-Yr. TCM
0.40%
0.36%
1.37%
5-Yr. TCM
0.84%
0.85%
2.34%
FHFB NMCR
4.15%
4.22%
4.42%
SAIF 11th Dist. COF
1.221%
1.201%
1.571%
HSH Nat'l Avg. Offer Rate
4.18%
4.22%
5.32%
Sales of new homes slipped just a little last month, sliding by 3,000 units to an annualized 321,000 in January. Despite the mild decline, sales remains considerably stronger than even six months ago and are presently higher than last year's peak. Inventories are very thin, with just 151,000 units built and ready for sale, a 5.1 month supply. This is the leanest figure since 2006.
For housing, the fundamentals of jobs growth, low prices and rock-bottom mortgage rates are having beneficial effect. There is no lack of folks cheering for this trend to continue. Homebuilding has wide-ranging beneficial effects and has perked up amid a mostly mild winter, and although improved, sales of existing homes need to quicken in order to materially change the picture for home prices. If rates hold at or near these levels, and if job growth and optimism continue to improve, we think that an actual "spring housing market" could form.
There's not much to be said about the minor rise in rates this week. Mortgage rates go up and down all the time, and even if they were to move over the "psychologically important" level of 4%, they would still be fantastic. In the long history of mortgages, 30-year fixed rates below 4% are a very, very recent phenomena, and we were setting any number of 40 and 50-year lows even when we were above that threshold.
Will the rise continue? Probably not. There is some data which might move the market a little next week in the form of the Fed's own survey of regional economic conditions (called the Beige Book for the color of its cover) If things are broadly improving it will show up here, as well as in the ISM report on manufacturing, and that might cause rates to hold or perhaps even move a little higher, especially if buttressed with other new data on auto sales, construction spending and durable goods orders. There doesn't seem to be much upward momentum, but best to figure on a couple basis point rise to be safe.
For an longer-range outlook for rates and the economy, one which will take you up until mid-April, have a look at our new Two-Month Forecast.
———-
Like HARP 2.0? We think we have a better plan… for over a year now!
Have a look at our idea — read about HSH.com's Value Gap Refinance concept, and be sure to let us know what you think.
---