March 11, 2011 — Mortgage interest rates help fairly steady this week, but the focus on the economy shifted away as news of a massive earthquake and tsunami captured the headlines. How great or lasting any economic impact will be remains to be seen, but there was word of a "repatriation" of cash to Japan from selling some holdings of Treasuries on Friday, but the overall effect was on interest rates was mild.
HSH.com's overall mortgage tracker — our weekly Fixed-Rate Mortgage Indicator (FRMI) — noted that the overall average rate for 30-year fixed-rate mortgages declined by four basis points (.04%) to finish the week at an average 5.14%. A key component of the first-time homebuyer market, FHA-backed 30-year fixed-rate mortgages slipped by a lone basis point to land at 4.80%. Hybrid 5/1 ARMs, often the most viable alternative to the traditional 30-year FRM (especially for jumbo buyers) also eased back a little, shedding four hundredths of a percentage point (.04%) for a second consecutive week to close the period at 3.83%
Want to get Market Trends as soon as it's published on Friday? Get it via email — subscribe here!
After a substantial rise which began in October 2010 and crested in December, rates have remained fairly flat overall, pulled in different directions by an economy which is growing at a meager pace. A clue that financial markets are healing comes in the form of narrowing differences between benchmarks such as the ten-year US Treasury (a virtually risk-free investment) and more risky products like residential mortgages. To be fair, Treasuries yields remain low as the Fed continues its QE2 program to support the economy, but the yield markup over Treasuries (called "spread") for things like first mortgages has returned to near normal.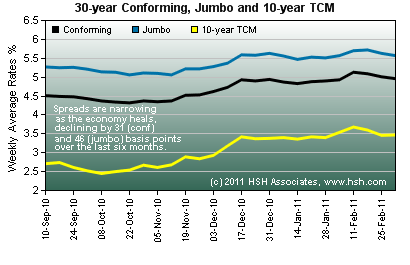 Before the financial crisis hit back in 2007, the spread between 30-year FRMs and the 10yr Treasury typically averages between 150 and 160 basis points before blowing out to as much as 280 at its peak. Presently, we find ourselves back in normal range again. Spreads for jumbo 30-year FRMs, perhaps the best expression of private market concerns do remain elevated compared to a norm of perhaps 180 basis points, but at about 210 right now they are closing in on normal once again — and that in a market which still has considerable risk and a secondary market which barely exists. That spreads have returned to near normal levels does suggest that the lending climate, while still tight, may be moving gradually toward a more welcoming stance before too long.
Some additional expressions of a healing economy were seen this week, but as usual there were offsetting factors sufficient to provide balance. Measure of spending and borrowing by consumers both sported increases in their latest respective releases. Consumer Credit usage expanded by $5 billion in January, a fourth consecutive month of increase, but all those gains were in installment-type lending, such as they used for purchasing new cars. Revolving debt – credit card usage — resumed its long decline after a one-month upward holiday blip, and declined by $4.2B for the month.

HSH has several lengthy series of statistics dating back to the 1980s for FRMs and ARMs, Conforming, Jumbo and FHA products. These can be licensed for use — interested parties should inquire here.
It does suggest that folks are paying more cash for their purchases. Retail Sales expanded by a full 1% in February, and rose by a reasonable 0.6% even excluding tallies for auto and gasoline sales. Consumers found a few extra dollars in their paychecks during the month as lower payroll tax withholding continued, but rising gasoline prices are starting to erase those gains.
Those in-your-face price increases, coupled with those found at the grocery store seemed to put a considerable damper upon consumer enthusiasm. The latest survey of Consumer Sentiment from the University of Michigan unexpectedly shed 9.3 points in the initial March reading, dropping back to a 16-month low. That was also the case in the latest Bloomberg Consumer Comfort index report, which had moved to a three-year high just a week ago, only to slump badly during the week ending March 6, losing 4.8 points to stop at minus 44.5, well back in the middle of a range which has persisted since the onset of the recession and throughout the recovery to date.
Oil prices were only partly the cause of a widening in the nation's imbalance of trade. That gap expanded to $46.3 billion in January on the strength of a $10.5B increase in imports and a $3.4B rise in exports. The report did raise some concern about slower growth here as China slowed its imports of American-produced goods, and it would seem likely that with oil's recent run to the $100/bbl range that the imbalance of trade will expand again next month.
Visit the HSH Finance blog for daily updates, consumer tips, and other things you need to know.

And follow us on Twitter for even more need-to-know news!
Inventory levels also expanded in January, but at a slower rate than in December. Overall stockpiles expanded by 0.94%, a little more than forecasts called for, but sales growth powered ahead at a rate sufficient to create a decline in the goods-on-hand measurement. At 1.23 months overall, inventories were the leanest they have been in months, and that will likely pave the way for some additional manufacturing activity in the months ahead.
Continuing those gains in sales will require an expansion in job growth. Layoffs are abating and weekly unemployment claims have posted some of their smallest figures of the recovery in recent weeks. However, a bit of a setback was seen in the week ending March 5, when an increase in claims of 26,000 was seen, leaving the number just shy of 400,000 for the week. Given some weather issues up and down the east coast this week, it's a fair bet that there will be at least some increase in new claims over the next couple of weeks as flooded areas again begin the process of drying out and cleaning up in the mid-Atlantic and Northeast US.
Our Statistical Release features charts and graphs
for 11 products, including Hybrid ARMs.
Our state-by-state statistics are now here.
Current Adjustable Rate Mortgage (ARM) Indexes
Index
For the Week Ending
Previous Year
Mar 04
Feb 04
Mar 05
6-Mo. TCM
0.17%
0.18%
0.19%
1-Yr. TCM
0.26%
0.28%
0.34%
3-Yr. TCM
1.21%
1.12%
1.36%
5-Yr. TCM
2.17%
2.10%
2.29%
FHFB NMCR
4.71%
4.58%
4.92%
SAIF 11th Dist. COF
1.484%
1.508%
1.828%
HSH Nat'l Avg. Offer Rate
5.18%
5.17%
5.34%
ARM indexes, APOR rates, Libor, usury ceilings, & more — all available from ARMindexes.com.

Email and webservice delivery are available.

Sources: FRB, OTS, HSH Associates.
The recent pace of the economy isn't exactly a one-step forward, two-steps back sort of affair, but there does not appear to be forming the kind of momentum which will produce a hot spike in the economy. More likely, the slow-growth pattern we've seen in the recovery seems likely to persist, and new challenges to the period just ahead, in the form of oil-related drag, waning enthusiasm and the end of Fed-engineered stimulus seem more than sufficient to temper any flare of growth or inflation which could form, at least for a while yet.
Mortgage rates have been generally been in a plateau since January, and we've wandered in about a quarter-percentage point range since then. There isn't much likelihood of a breakout next week, when we'll get a look at price pressures from imports and exports as well as producer and consumer price indexes, a look at housing markets in the form of builder sentiment and housing starts, industrial output and a couple of regional manufacturing outlooks, plus a forward looking indicator. A few basis points in either direction seems most likely.
For an outlook which will take you up until early April, have a look at our Two-Month Forecast.
———-
If you've not yet seen it, we've written a year-long overview for mortgages and housing markets for 2011. While there are any number of unseen items which will affect any forecast, we've boiled it down to the eight that we think will have the greatest impact during the year. You can check it out here.