February 11, 2011 — Conforming mortgage rates caused a little stir by daring to climb over the 5% mark this week, but that was a mere formality compared to the rise in rates which occurred from last October to December. Since then, rates have been largely stable, awaiting clues that a better economic climate is forming, and that it is again safe to start to move money from safe-haven locations into riskier investments.
These moves — completely foreseeable ones amid a growing economy — may appear on a consistent or sporadic basis as we move away from panic and crisis and eventually (and hopefully) settle into a sustainable recovery.
Overall interest rates have been above the 5% market for a number of weeks, and private-market jumbo rates are trending toward the six-percent mark.
HSH.com's overall mortgage tracker — our weekly Fixed-Rate Mortgage Indicator (FRMI) — found that the overall average rate for 30-year fixed-rate mortgages increased by another 16 basis points, rising to an average 5.33%. Along with conforming mortgages, FHA-backed 30-year FRMs are a considerable and crucial part of the first-time homebuying market. These self-insured loans jumped up by a full twenty basis points (.20%) to finish the week at 4.99%. Borrowers (especially jumbo borrower) looking for an alternative to the benchmark 30-year FRM might consider a 5/1 Hybrid ARM, which is available at an relatively inexpensive 3.99% for the first five years, also up by 16 basis points from last week.
Despite recent increases, mortgage rates remain well below "normal", or at least what has passed for normal over the past five or ten-year period.
Want to get Market Trends as soon as it's published on Friday? Get it via email — subscribe here!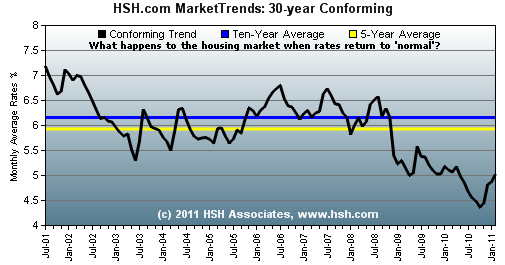 The Treasury's proposal for housing market reform finally came this week, providing a broad sketch of the administration's considered thinking about how to change the structures of housing finance markets in the post-financial-crisis era. As to be expected, the details are thin, even if the implications are not: the markets will be reformed, some by the already-in-place Dodd-Frank regulations, some by the forthcoming Consumer Finance Protection Bureau, and some as the result of unclear changes designed to again foster a more fully private mortgage market. Three concepts were outlined, including a no-GSE structured market, one with a GSE-concept limited largely to use in times of financial market crisis, and one which includes a model slightly different than today in that a risk-bearing insurance intermediary would be responsible for losses before the taxpayer is (for a fee, the government would backstop the insurer in the event of default). These would be complex new or adapted ideas of insurance and government re-insurance concepts which will ultimately add to the cost of borrowing.
Regardless of the choice of paths and the specifics of final reform (whenever it may ultimately come) costs for mortgages will rise, and credit will continue to be hard to come by for borrowers unable to make it over traditional underwriting hurdles, at least until it becomes more clear whether the regulatory changes in motion will make it possible for firms to again make money by making loans to people outside those norms.
Of the few specifics discussed in the Treasury document, we found a requirement for a minimum 10% down payment for a government-backed loan (mimicking the de-facto standard in the market today) and higher insurance premiums for FHA loans. As well, FHA would be turned back to its more traditional role of providing financing for low-to-moderate income borrowers amid a renewed emphasis on creating and supporting affordable rental housing.
It's safe to say at the moment that months of discussion (at least) will follow, and possibly years worth of reform await us. It's also important to keep in mind that these blueprints are certain to change as interested groups weigh in during these discussions, and that final reform may look little like the original outlines we see today.

HSH has several lengthy series of statistics dating back to the 1980s for FRMs and ARMs, Conforming, Jumbo and FHA products. These can be licensed for use — interested parties should inquire here.
A few tidbits of economic news came this week, one perhaps a clear expression of rising optimism in the recovery. Borrowing by consumers rose in December by $6.1 billion, almost three times the expectation, and for the first time since August of 2008, spending on credit cards ("revolving balances") rose, sporting an increase of $2.3 billion. Given that taking on new debt — more properly, making a commitment against expected future income — signals rising confidence about one's ability to pay, it is just one more signal that the economic tide has begun to rise.
That expression, however, has not directly translated to moods and attitudes, so perhaps there may be more than meets the eye — a lack of available cash for holiday shopping, maybe — but we'll know more next month. Meanwhile, consumer moods remain fairly flat, with the mid-month University of Michigan survey of Consumer Sentiment rising by 0.9 points to 75.1 so far this month. That mild increase was not mirrored by the latest ABC News/Washington Post poll of Consumer Comfort, which shed five points to land at minus 46 during the week ending February 6, again squarely in the middle of its recession-to-recovery range. Perhaps the groundhog's prediction about winter soured moods to a degree, or TV images of trouble in Egypt drove down spirits.
Visit the HSH Finance blog for daily updates, consumer tips, and other things you need to know.

And follow us on Twitter for even more need-to-know news!
Continuing an erratic pattern, first-time claims for unemployment benefits slumped to 383,000 during the week ending February 5, the lowest initial claims reading since mid-2008. Despite the notchy pattern of claims due to weather and holiday distortions, the trend is clear one heading gently downward. That said, we'll need to fall below 300,000 to really start to see a healthy labor market forming, and that might be a little while in coming yet.
The nation's imbalance of trade remained fairly unchanged in December, holding at $40.6 billion as both exports and imports showed gains. The weak dollar is fostering rising exports even as the firming recovery is increasing demand for goods produced outside these shores. There was a little additional stockpiling of goods at wholesalers in December, where a 1% rise in the value of their holdings was a little more than what was expected. If too many goods accumulate, it would presage a slowdown in orders to manufacturers, but the ratio of goods on hand relative to sales remains pretty tight despite the increase in holdings, so orders should continue to flow, promoting the recovery.
Our Statistical Release features charts and graphs
for 11 products, including Hybrid ARMs.
Our state-by-state statistics are now here.
Current Adjustable Rate Mortgage (ARM) Indexes
Index
For the Week Ending
Previous Year
Feb 04
Jan 07
Feb 05
6-Mo. TCM
0.18%
0.19%
0.17%
1-Yr. TCM
0.28%
0.29%
0.33%
3-Yr. TCM
1.12%
1.07%
1.38%
5-Yr. TCM
2.10%
2.04%
2.33%
FHFB NMCR
4.58%
4.42%
5.01%
SAIF 11th Dist. COF
1.508%
1.571%
2.094%
HSH Nat'l Avg. Offer Rate
5.17%
5.12%
5.42%
ARM indexes, APOR rates, Libor, usury ceilings, & more — all available from ARMindexes.com.

Email and webservice delivery are available.

Sources: FRB, OTS, HSH Associates.
Without a doubt, there are major changes coming to the mortgage markets. Some are happening already, such as Dodd-Frank rules, discussions of what constitutes a Qualified Residential Mortgage (and who is responsible for holding the risks when it is not), additional loan-level pricing adjustments (fees) built into present-day Fannie Mae and Freddie Mac pricing; new documentation and rules and structures and more as time rolls forward. Between now and then, a growing economy, global concerns about commodity and food price inflation, a still-accomodative Fed and other factors are serving to push interest rates in general and mortgage rates specifically to levels they passed on the way down about a year ago.
At least some of the economic recovery can be attributed to the beneficial effects of refinancing over the past year, which can free up household income to allow for additional spending. Those lagged effects probably don't show themselves completely for a period of perhaps three to six months, so we should enjoy at least some economic boost from them for a little while longer yet. Hopefully as this impact fades, job growth will and even homebuying will step in to power the economy forward.
For the moment, we're in between market phases; refinancing activity is fairly dead and homebuying has not yet picked up. To the extent that demand plays a role in the price (interest rate) of a mortgage, sliding demand may temper any additional rises in interest rates. It does appear that underlying Treasuries have steadied, but there may still be some unrealized upward pressure for mortgage rates next week as we get the latest on Consumer Prices, Leading Economic Indicators, Industrial Production and a sense of where homebuilding is going. Best to figure on a rise of a few more basis points in the average rates.
For an outlook which will take you up until early April, have a look at our new Two-Month Forecast.
———-
If you've not yet seen it, we've written a year-long overview for mortgages and housing markets for 2011. While there are any number of unseen items which will affect any forecast, we've boiled it down to the eight that we think will have the greatest impact during the year. You can check it out here.