January 21, 2011 — Mortgage rates took back last week's little decline, as what seems to be a lack of a clear direction for the economy has helps them to find a plateau. Unlike the last quarter of last year, when economic improvement was trending higher, it may just be that we've gotten to a "wait and see what develops" kind of state.
HSH.com's overall mortgage tracker — our weekly Fixed-Rate Mortgage Indicator (FRMI) — found that the overall average rate for 30-year fixed-rate mortgages increased by a mild six basis points, landing at an average 5.11% during a holiday-shortened week. FHA-backed 30-year FRMs, a considerable and crucial part of the first-time homebuying market, ticked just three basis points upward to 4.75% for the week. Borrowers looking to alternatives to the benchmark 30-year FRM might consider a 5/1 Hybrid ARM, which is available at an attractive 3.82%, up just a lone basis point from the week prior.
The gap between long-term fixed rates and the most common hybrid ARM should makes them at least a consideration for homebuyers and refinancers with short time horizons. HSH.com's FRMI and other public data series includes rates for conforming, jumbo, and most recently the GSE's "high-limit" conforming products and so cover much of the mortgage-borrowing public.
Want to get Market Trends as soon as it's published on Friday? Get it via email — subscribe here!
As we move away from distortions in the market created by on-again, off-again tax incentives, we should be able to again discern true demand levels for housing. With low interest rates still in place and affordability at very high levels, existing home sales managed to jump to an annualized rate of 5.28 million in December, the highest such figure in more than six months. The kick higher in sales came even as interest rates were firmer than many periods earlier in the year, and also drained some inventory out of the market, drawing it down to 8.1 months of available homes at the present sales pace. More inventory is slated to hit the market in 2011 as foreclosures continue unabated. Still, that there is growing demand for homes as the economy has shown signs of life does portend well for the market in 2011, and increasing employment opportunities during the year may even forestall or even cancel some expected foreclosures.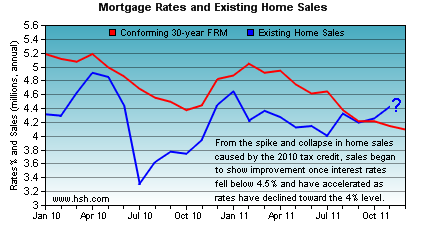 Should the economy improve enough for that to happen, it would be truly good news. There were a few suggestions in the economic data this week, including a second strong showing by the Conference Board's index of Leading Economic Indicators, which moved forward by a full percentage point during December, fast on the heels of a 1.1% lift in November. It is clear that at least the early part of 2011 should have feature a fair bit of growth.
Regardless of the level of growth, it is expected to be a rough time for the nation's homebuilders Difficult financing conditions for new projects, weak aggregate demand due to a still-poor economic climate and serious competition from low-cost foreclosures will continue to challenge the part of the market for a while yet. Still, the National Association of Homebuilders index of member sentiment put in a third consecutive month at a value of 16, which is still terrible but at least stable. Sales of single-family homes, the key component of the market, has has an identical string of values over the past three months. Expectations for activity over the next six months is also in a holding pattern, but one which is somewhat firmer that that seen over the past couple of years.

HSH has several lengthy series of statistics dating back to the 1980s for FRMs and ARMs, Conforming, Jumbo and FHA products. These can be licensed for use — interested parties should inquire here.
With all this in mind, it isn't surprising to see that Housing Starts finished 2010 on a soft note, coming in a a 529,000 (annualized) rate of initiation, a 4.3% drop from November. Despite the weakness, it's worth noting that starts were actually 6% higher in 2010 than 2009, so the trend is in the right direction, if gently so. Permits for new building — hopefully anticipating a continuing rise in demand over the next four to six months — shot up nicely, landing at a 635,000 annualized rate, with both single-family (+17%) and the smaller multi-family (+53.5%) sectors showing gains.
While we wait for the service sector of the economy to gather momentum, it is a welcome sign to see continuation of activity in the manufacturing portion of the economy. Local surveys of such activity in the Philadelphia Federal Reserve's district and one conducted in New York both pointed to solid growth. The New York Federal Reserve reported a value of 11.9 for its indicator in January, up from 10.6 in December, while the Philly Fed's indicator remained in very solid territory with a reading of 19.3 for January. Notably, the Philly Fed's employment sub-index moved sharply higher during the month, so perhaps job growth is starting to gain some momentum, too.
Visit the HSH Finance blog for daily updates, consumer tips, and other things you need to know.

And follow us on Twitter for even more need-to-know news!
While that's happening ever so slowly, we do seem to be on the cusp of finally breaking below 400,000 weekly initial jobless claims. A few weeks ago, we had a seasonally-distorted single week run down below that level, only to have a spike a couple of weeks later. During the week ending January 14, that spike was erased and we again approached the 400,000 level, with 404,000 new applications for benefits filed. The job market won't really be close to a self-sustaining recovery until we are closer to the 300,000 weekly mark, a common pre-recession level, so there is still much work to do. Still, breaking a claims barrier on the downward side would be a welcome signal of continuing recovery.
That might even raise consumer spirits. The weekly ABC News/Washington Post poll of Consumer Comfort touched the highest levels of the recovery so far a couple of weeks ago, but stormy winter weather and uncomfortable gasoline prices seem to have beat back spirits again. The minus 43 reading during the week ending January 16 is still closer to the high water mark than recent lows, but a rising trend would be preferable.
Our Statistical Release features charts and graphs
for 11 products, including Hybrid ARMs.
Our state-by-state statistics are now here.
Current Adjustable Rate Mortgage (ARM) Indexes
Index
For the Week Ending
Previous Year
Jan 14
Dec 17
Jan 15
6-Mo. TCM
0.18%
0.19%
0.14%
1-Yr. TCM
0.27%
0.30%
0.35%
3-Yr. TCM
1.01%
1.03%
1.50%
5-Yr. TCM
1.96%
2.03%
2.51%
FHFB NMCR
4.42%
4.49%
5.02%
SAIF 11th Dist. COF
1.571%
1.654%
1.259%
HSH Nat'l Avg. Offer Rate
5.05%
5.18%
5.46%
ARM indexes, APOR rates, Libor, usury ceilings, & more — all available from ARMindexes.com.

Email and webservice delivery are available.

Sources: FRB, OTS, HSH Associates.
Amid these clues, mortgage rates have mostly been backing and filling now for a couple of weeks. We may be starting to see the effects of the incorporation into mortgage pricing new and expanded Loan Level Pricing Adjustments (LLPA, Fannie, starting with loans delivered April 1) and Post-Settlement Delivery Fees (Freddie, starting with loans delivered March 1). These add-on fees originally were penalties aimed at riskier borrowers, those with low credit scores or small equity stakes (or down payments), but the new add-on structures touch even those with great credit and deeper equity positions. These fees can be paid out of pocket or incorporated into the interest rate of the loan. To the extent that these are built into pricing, the effect on interest rate levels is small but permanent.
The upward tick for rates may persist into next week. A slew of fresh economic data is due, including the first look at 4th quarter 2010 GDP. The Federal Reserve holds a two-day meeting to chew over the level of growth, inflation and the efficacy of the on-going QE2 program, and we'll see reports covering durable goods, new home sales and a final January look at Consumer Sentiment. We'll figure on a few basis point rise in rates at most, barring any surprises from the Fed.
If you've not yet seen it, we've written a year-long overview for mortgages and housing markets for 2011. While there are any number of unseen items which will affect any forecast, we've boiled it down to the eight that we think will have the greatest impact during the year. You can check it out here.
———-
Wondering how the mortgage market will fare before February comes? Check out HSH.com's latest Two-Month Forecast.
———-
One way to keep refinancing activity moving forward is to help underwater borrowers refinance. How? Have a look at our idea — read about HSH.com's Value Gap Refinance idea, and be sure to let us know what you think.
---