December 30, 2010 — A light economic calendar provided little reason for mortgage rates to move to any great degree. However, they did close the year with a slight move upward.
HSH.com's overall mortgage tracker — our weekly Fixed-Rate Mortgage Indicator (FRMI) — found that the overall average rate for 30-year fixed-rate mortgages rose by four basis points, (.04%) to end HSH.com's national survey at 5.19%. FHA-backed offers, so crucial to first-time homebuyers and low-equity refinancers, increased by the same amount to finish the last week of 2010 at 4.82%, while the overall average rate for 5/1 Hybrid ARMs remained below the 4% threshold with an average initial five-year rate of 3.95% HSH.com's FRMI and other public data series includes rates for conforming, jumbo, and most recently the GSE's "high-limit" conforming products and so cover much of the mortgage-borrowing public.
Want to get Market Trends as soon as it's published on Friday? Get it via email — subscribe here!
The graph below shows how both conforming and jumbo mortgage rates trended throughout 2010. By all accounts, it was a year to remember, with mortgage rates slowly falling to multi-generational lows at one point, only to reverse course as we closed the year. As is typical, mortgage rates again rose much more quickly than they fell, causing at least a few refinances to crash. Despite the increase, rates remain quite favorable, but refinancing activity will probably be considerably more subdued in 2011 than it was in 2010.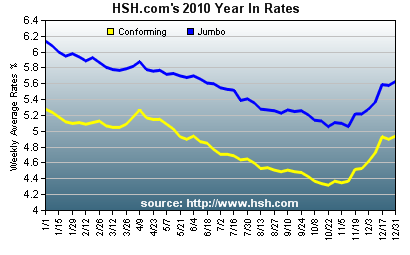 While the economy is finishing the year in a fairly firm position and holds greater promise of improvement for 2011, consumers still don't believe the hype. Measures of consumer outlooks have improved off very low bottoms but remained mired in dismal territory, and the latest reports show that any post-election euphoria has seemingly worn off.
The latest reading of Consumer Confidence from the Conference Board showed a 1.8-point drop from November to December, confounding forecasts of perhaps a multi-point improvement. This erased perhaps half the gains notched in November, and continues to show that recovery-boosting optimism remains in short supply, despite a recovery now entering its sixth quarter.

HSH has several lengthy series of statistics dating back to the 1980s for FRMs and ARMs, Conforming, Jumbo and FHA products. These can be licensed for use — interested parties should inquire here.
After tying a 2010 high of minus 41 last week, the ABC News/Washington Post poll of Consumer Comfort dipped by three points during the week ending December 25. It's likely that disappointment at sharply rising prices for gasoline during the holiday traveling season were the culprit, but perhaps too few people got what they wanted for Christmas to generate any enthusiasm.
With a weaker dollar boosting exports, and a strengthening world economy more interested in them, it's little wonder that there have been some increases to be seen in production-related indicators. A purchasing managers group based in Chicago reported a large increase in their gauge of activity in December, which rang in at 68.6 for the month, a level not seen since the 1980s. While one month does not make a boom by any means, that there is continued strength in manufacturing is a good signal, since it should provide some momentum for growth as we move into early 2011.
Visit the HSH Finance blog for daily updates, consumer tips, and other things you need to know.
And follow us on Twitter for even more need-to-know news!
Two localized indicators of economic activity both pointed to a continuing or strengthening expansion. The Federal Reserve bank covering the Kansas City district reported a second consecutive month of solid growth, where its measuring tool for local activity came in at a reading of 21 for December. Over in the Richmond district, a significant improvement for the month was noted, as this local indicator rose from 9 in November to 25 in December, the highest figure since May 2010.
Our Statistical Release features charts and graphs
for 11 products, including Hybrid ARMs.
Our state-by-state statistics are now here.
Current Adjustable Rate Mortgage (ARM) Indexes
Index
For the Week Ending
Previous Year
Dec 24
Nov 26
Dec 25
6-Mo. TCM
0.19%
0.20%
0.18%
1-Yr. TCM
0.30%
0.27%
0.41%
3-Yr. TCM
1.05%
0.75%
1.49%
5-Yr. TCM
2.02%
1.48%
2.50%
FHFB NMCR
4.42%
4.49%
5.02%
SAIF 11th Dist. COF
1.654%
1.663%
1.272%
HSH Nat'l Avg. Offer Rate
5.19%
4.86%
5.59%
ARM indexes, APOR rates, Libor, usury ceilings, & more — all available from ARMindexes.com.

Email and webservice delivery are available.

Sources: FRB, OTS, HSH Associates.
Distorted by seasonal adjustment issues but nonetheless welcome, the nicest surprise for the week came in the form of a huge decline in new applications for unemployment benefits. For the week ending December 25, a 2010 low of 388,000 new applications were filed at state windows. The prior week was revised upward to 422,000 filings, and a more accurate reading is probably somewhere in that range or perhaps just below it.
We'll begin 2011 with mortgage rates considerably below where we began 2010. It's true that interest rates are less favorable now, but are at pretty low levels despite the end-of-2010 run up. Next week, HSH.com will release its 2010 Outlook for the mortgage and housing markets. We review the eight factors we think are they key items facing homeowners and homebuyers for the year, including mortgage rates. Watch for it.
Here's wishing all of you a happy, healthy and prosperous 2011.
———-
Wondering how the mortgage market will fare into the early part of 2011? You'll want to read our latest
Two-Month Forecast.
———-
One way to keep refinancing activity moving forward is to help underwater borrowers refinance. How? Have a look at our idea — read about HSH.com's Value Gap Refinance idea, and be sure to let us know what you think.
---