December 10, 2010 — As the holidays come fast upon us, mortgage markets usually quiet down. The silence this year seems likely to be a little deeper, since rinsing interest rates have come back into the picture.
Few would consider this to have been anywhere near a banner year for the mortgage market, but it has done pretty well overall. While home sales remain moribund at best, record-low interest rates fostered hundreds of thousands (perhaps millions) of refinances, papering over what would have been a very slow year indeed. Refinances have been important to both lender profits and improvements in household balance sheets, and are no doubt contributing to the gains in retail and auto sales as the year progressed.
That organic stimulus should continue to some degree, lagged effects being what what are. However, the rise in rates means fewer and fewer new beneficiaries, at least for the moment.
HSH.com's overall mortgage tracker — our weekly Fixed-Rate Mortgage Indicator (FRMI) — found that the average rate for 30-year fixed-rate mortgages moved another nine basis points higher (.09%), ending HSH.com's national survey at 4.95%, a twenty-week high. For low-downpayment homebuyers or refinancers with only a slight equity position, FHA-backed loans are available at an average rate of 4.65%, while the overall average rate for 5/1 Hybrid ARMs rose seven basis points to 3.73% for the week. HSH.com's public mortgage interest rate data series include rates for conforming, jumbo, and most recently the GSE's "high-limit" conforming products and so covers much of the mortgage-borrowing public.
There was a thin calendar of economic news out this week, but perhaps the biggest was the at least tentative agreement on the extension of the Bush-era tax brackets. A compromise between the Administration and Republicans was reached on Monday, but Democratic opposition has so far kept the measure from moving forward. A mild payroll tax cut was attached to the measure, as was the extension of unemployment benefits for up to an additional 13 months.
Want to get Market Trends as soon as it's published on Friday? Get it via email — subscribe here!
Better economic news and the Fed's Quantitative Easing II program have teamed up to create the bump in rates. We noted when the program began that while the Fed's program was expected to reduce the desire of investors to hold low-yielding Treasuries, and so foster investments in other areas (driving other yields downward) that there was no guarantee that this would work. So far, it would seem that that deterrent has led to increases in oil, gold, commodities and even equity prices, with little decline in interest rates of any kind to be seen.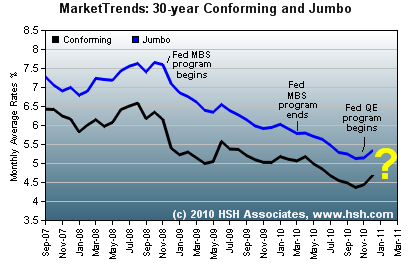 It occurred to us over the last two weeks that perhaps the Fed's program may not be intended to actually drive interest rates downward, but rather to temper increases when they began, keeping rates somewhat lower than they might otherwise be. The Fed was probably aware when the program was envisioned that the economy would begin to turn up at some point, and that investors might become spooked about the prospect of a Fed pushing low-rate stimulus for a long while yet while growth was gaining steam. Fixed-income (bond) investors, worried about future inflation, might boycott these investments with puny yields, and that fall in demand would in turn cause a spike in interest rates. To some degree, this is what's occurring right now, and rates have bounced up off the bottom as a result. As such, the Fed's influence in the market is serving to keep rates from rising even more, and that constant demand, even if small, may produce a calming influence, keeping a minor bond-market rout from becoming a snowballing disaster. Just as someone (the Fed) was there to buy mortgages last year when no one wanted them, supporting the market, there will at least be one buyer of last resort available in the market if needed.
There is no doubt that the collective tenor of economic reports has improved since the Summer swoon, but there is also no doubt that we are by no means running at such a hot pace that inflation is just around the corner. Have markets overreacted? Probably. It's not uncommon at all for rates to drift slowly downward, only to spike for a short while before settling back to a measurable degree. This is the most likely pattern we are in at the moment, with the summer-into-fall's decline coming to an end back in October. The slow decline from these comparable levels back in July to the bottom in October averaged just a two basis point decline for each of fourteen weeks; the take-back has happened in just half the time. Despite the increase, we remain substantially below the year's highs.
The effect, of course, is most pronounced on refinance activity, which has plummeted even with the small rise in rates. The latest refi wave has seemed to us tenuous and hyper-sensitive to even small moves in interest rates, and the Mortgage Bankers Association of America reported that applications for refinances at six-month lows last week. Homebuyers are less affected, since favorable interest rates are only one of the components of a decision to purchase a home, and even as refinancing applications fall, applications for purchase-money mortgages touched seven-month high.

HSH has several lengthy series of statistics dating back to the 1980s for FRMs and ARMs, Conforming, Jumbo and FHA products. These can be licensed for use — interested parties should inquire here.
Prior refinances have been important to improving consumer spending and borrowing. Mortgage refinances cause a re-casting of a household balance sheet, adding perhaps hundreds of dollars per month to free cash flow, which in turn is spent, stimulating the economy, or used to further retire debt. During October, consumer borrowing rose by $3.4 billion dollars solely on the strength of gains in installment lending, most probably for autos and trucks. While far from robust, auto sales have firmed measurably over the last few months. Even with this new borrowing, consumers continue to retire balances on their revolving accounts at an impressive clip, with another $5.6B repaid last month. Instead of "putting it on the plastic", it would seem that gains in retail sales in recent months are being paid with cash. The net gain in borrowing was the largest since July 2008, and the small back-to-back gains of September and October are themselves an expression of growing optimism about future economic prospects.
That optimism may be partially reflected in confidence reports which have started to show some signs of improvement. While the weekly ABC News/Washington Post poll of Consumer Comfort has remained rangebound for all of this year, the measure of Consumer Sentiment from the University of Michigan is again moving toward recent highs. The preliminary December reading rang in at 74.2, much closer to the year's high of 76.0 than the 2010 low of 67.7, reached in October.
Inventory levels at the firms in between manufacturer and retailer — the wholesale level — have been increasing at a considerable pace for the last four months. October's 1.9% increase was rather above forecasts, and such sizable increases in stockpiles might presage a slowdown in new orders. However, rising final demand continues to keep pace, and so the ratio of goods on hand relative to demand has remained constant and suggesting that the production-led recovery has at least some legs yet. It's also possible that some of the rise is due not to increases in the number of items on hand, but rather the rising cost of those items, many of which come in from beyond our shores.
Visit the HSH Finance blog for daily updates, consumer tips, and other things you need to know.

And follow us on Twitter for even more need-to-know news!
Import prices rose by 1.3% during November, with a gain of 0.7% when petroleum products are excluded from the calculation. That came on the heels of a full 1% rise in October. To be sure, the weaker dollar is playing a role in firming import prices, which have risen by 3.7% over the past 12 months. Of course, we are exporting a little inflation as well, with a 1.5% rise in the cost of goods destined for export in November and a cumulative 6.5% increase over the past year. Fears of outright deflation should continue to fall behind us, since present policies are attempting to foster more, rather than less inflation.
Our weaker dollar is serving to help the economy to some degree by making goods and services produces here less expensive to buy in other currencies. To the extent this induces more outbound and somewhat fewer inbound sales of goods and services, the nation's imbalance of trade is narrowed. In October, this gulf narrowed appreciably, contracting to just $38.7 billion for the month, closed by a $5B gain in exports and a $1B diminishment in imports. It was the narrowest differential in about seven months, and should help to improve the domestic manufacturing outlook.
Our Statistical Release features charts
and graphs
for 11 products, including Hybrid ARMs.
Our state-by-state statistics are now
here.
Current Adjustable Rate Mortgage (ARM) Indexes
Index
For the Week Ending
Previous Year
Dec 03
Nov 05
Dec 04
6-Mo. TCM
0.20%
0.16%
0.16%
1-Yr. TCM
0.28%
0.22%
0.29%
3-Yr. TCM
0.80%
0.49%
1.20%
5-Yr. TCM
1.59%
1.11%
2.10%
FHFB NMCR
4.49%
4.55%
5.16%
SAIF 11th Dist. COF
1.654%
1.663%
1.272%
HSH Nat'l Avg. Offer Rate
4.86%
4.61%
5.24%
ARM indexes, APOR rates, Libor, usury ceilings, & more — all available from ARMindexes.com.

Email and webservice delivery are available.

Sources: FRB, OTS, HSH Associates.
In addition to others, perhaps those gains will create some jobs. The last employment report was fairly weak, even if other economic signals have been stronger. Perhaps when next month comes there will be an upward revision to the 39,000 jobs added in November. In the meanwhile, though, we'll have to find comfort in the easing levels of newly-fired workers. During the week ending December 4, some 421,000 applications for first-time unemployment benefits were filed, a figure which does rank among the best seen in 2010, if still uncomfortably high. With three weeks left in the year, it does seem unlikely that we'll break below the 400,000 mark, but the backing-and-filling trend does show a pattern of slight and continuing improvement overall. Here's hoping for a continuation well into the coming new year.
Despite this week's rise, mortgage rates do seem to have leveled off. Barring any blockbuster economic data, there is a good chance that we have peaked, give or take a few basis points. If we have, and if history in any guide, we might see some slight improvement in rates over the next couple of weeks.
The Federal Reserve meets next week to ponder the efficacy of its program and sift through the economic tea leaves. A slew of fresh data is due out, including Retail Sales, PPI and CPI and a couple of fresh glimpses at the housing market. Stronger news could presage firmer interest rates, but since they have already firmed they probably stand fairly steady by week's end.
Wondering how the mortgage market will fare before and after the holidays? You want to read our latest Two-Month Forecast.
———-
One way to keep refinancing activity moving forward is to help underwater borrowers refinance. How? Have a look at our idea — read about HSH.com's Value Gap Refinance idea, and be sure to let us know what you think.
---