November 12, 2010 — With mortgage rates still low and refinancing opportunities still strong, HSH.com introduced this week a brand-new calculator to help borrowers determine the best method of paying loan fees. The Tri-Refi Refinancing Calculator lets homeowners quickly and easily compare the costs and savings of the three common methods of paying closing costs — out-of-pocket, added into the loan amount or built in to the interest rate. Loan information is entered once and the comparisons are instantly presented side-by side.
In addition to comparing costs of the three methods against one another, the interest savings from refinancing an old loan to new are also presented for each method, so the user can see how a given choice will work out for them both today and over common time horizons.
We invite you to check it out and welcome your feedback.
Want to get Market Trends as soon as it's published on Friday? Get it via email — subscribe here!
Mortgage interest rates eased by a whisker this week. HSH.com's overall mortgage tracker — our weekly Fixed-Rate Mortgage Indicator (FRMI) — revealed that the average rate for 30-year fixed-rate mortgages declined by one basis point (.01%), ending HSH.com's national survey at 4.61%. For those buying homes or hoping to refinance with only a small equity position, FHA-backed loans are available at an average rate of 4.26%, and the overall average rate for hybrid 5/1 ARMs was 3.52% for the period. HSH.com's public mortgage interest rate data series include rates for conforming, jumbo, and most recently the GSE's "high-limit" conforming products and so covers much of the mortgage-borrowing public.

HSH has several lengthy series of statistics dating back to the 1980s for FRMs and ARMs, Conforming, Jumbo and FHA products. These can be licensed for use — interested parties should inquire here.
While rates are favorable, lending conditions remain firm. The latest survey of Senior Loan Officers conducted by the Federal Reserve during the third quarter of 2010 found a slight easing in lending conditions overall, but not for residential mortgage lending. About 25 percent of the 54 banks responding to the survey tightened terms and conditions "somewhat", while a full 75 percent noted the conditions remained "basically" unchanged. That was slightly more restrictive than the second quarter survey, where the ratios were 8 percent and 92 percent, respectively. Of course, the only residential loans lenders have direct control over are non-conforming (aka jumbo) mortgages; any real easing in terms and conditions would have to come from the government via Fannie Mae, Freddie Mac and the FHA. Given challenging market conditions and a need to offset yesterday's money-loser loans with today's profitable ones, it may be a while before that occurs, if at all.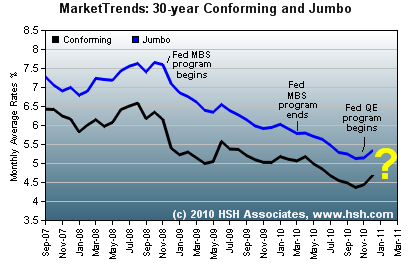 As we wait for concrete signs of economic improvement, there does seem to be a little glimmer of hope in the most recent pattern of new unemployment claims. Over the last four weeks, there seems to be a decided downshift in the number of applications for benefits. With this week's 435,000 new inbounds, two of the last four weeks have seen a mid-430K figure and were interrupted by two in the mid-450K, among the best group of readings since early this year. Perhaps the labor market is starting to heal to a greater degree; if we see claims trending closer to 400,000 before we get into typical holiday distortions, we may finally be on a more reliable path.
Visit the HSH Finance blog for daily updates, consumer tips, and other things you need to know.
And follow us on Twitter for even more need-to-know news!
The nation's imbalance of trade was a little smaller in September, ringing it at a flat $44.0 billion dollars, down from $46.5B in August. Exports rose slightly while import slipped back, as the economies of some of our trading partners are growing somewhat more strongly than our own. For those watching price trends, aggregate costs for imported goods climbed 0.9% in October, a fair rebound from the -0.1% seen in September. Rising petroleum costs had a big hand in the increase, and without them the rise was a tamer 0.4% for the month. Prices of goods destined for other shores nearly matched that of imports, increasing 0.8% for the month. Concerns about deflation do seem to be fading behind us, and there is some growing concern about commodity inflation, with gold, metals and especially oil costs much firmer than they had been earlier this year. Higher oil costs, besides acting as a catalyst for inflation, produce increases in gasoline prices which absorb billions of dollars in the economy and act as a brake on economic growth.
Stockpiles of goods on wholesaler shelves increased by 1.5% in September, the third month of sizable gains in inventories. This accumulation of inventory might presage a slowdown in new orders, but fortunately, these growing piles of goods are being met with rising demand, which is coming at a clip sufficient to keep the flow going and keep factories moving. The service sector of the economy is just starting to show faint signs of joining the recovery, so keeping manufacturing humming is key until the expansion covers more segments of the economy.
Consumer moods aren't rising by much. The weekly ABC News/Washington Post poll of Consumer Comfort held firm at minus 46 for the week ending November 7, so even removing many politicians from office failed to cheer moods much. However, a slight improvement was seen in the preliminary November reading of Consumer Sentiment from the University of Michigan. A 1.6 point rise to 69.3 was seen for the early month period, so perhaps attitudes were improved a little bit by the elections after all. It's our bet though, that rising gasoline prices are likely to put a crimp on any building enthusiasm in the coming weeks.
Our Statistical Release features charts and graphs
for 11 products, including Hybrid ARMs.
Our state-by-state statistics are now here.
Current Adjustable Rate Mortgage (ARM) Indexes
Index
For the Week Ending
Previous Year
Nov 05
Oct 08
Nov 06
6-Mo. TCM
0.16%
0.17%
0.16%
1-Yr. TCM
0.22%
0.24%
0.36%
3-Yr. TCM
0.49%
0.57%
1.44%
5-Yr. TCM
1.11%
1.17%
2.35%
FHFB NMCR
4.55%
4.65%
5.25%
SAIF 11th Dist. COF
1.663%
1.713%
1.412%
HSH Nat'l Avg. Offer Rate
4.61%
4.66%
5.41%
ARM indexes, APOR rates, Libor, usury ceilings, & more — all available from ARMindexes.com.

Email and webservice delivery are available.

Sources: FRB, OTS, HSH Associates.
While mortgage rates at the retail level generally remained flat, there were considerable increases seen upstream in the process this week. Common "required net yields" for 30-year FRMs from Fannie and Freddie — essentially, the wholesale price of mortgage money — rose by 10-20 basis points this week, but so far, those increases haven't been passed along. It would appear that lenders are absorbing those increases in order to keep profitable refinancing business coming in the door. The influential yield on the 10-year Treasury bounced as much as 20 basis points higher when comparing last Friday's close to this one. The Fed's QE program does seem to be getting off to a rocky start, at least as far as hoping to influence interest rates downward.
We think that lenders will let a little increase in rates slip in next week, enough to bump the averages a couple of basis points or so. As it stands, our "record record" low was the week ending October 22, and we've been a few basis points above it since then. If economic prospects are improving, we may move away from this bottom a bit more.
Wonder how we'd help underwater borrowers looking to refi? Have a look at our idea. Curious? Read HSH.com's Value Gap Refinance idea, and be sure to let us know what you think.
---
Looking down the road toward Thanksgiving? Take a look at our just-posted-today
Two-Month Forecast
.
Have you seen HSH in the news lately?
Want to comment on this Market Trends? Post it here — add your feedback, argue with us, or just tell us what you think.
And for today's top stories, see our HSH Finance blog. Want the latest news/advice/whatever? Follow us on Twitter.
Daily FRMI rates are available on HSH.com.
Check out our weekly Statistical Release here (and archives here).

Popularity: 2% [?]