July 9, 2010 — Mortgage rates remained flat this week, with zero effect on home purchase applications but continuing a trend of increasing refinance activity.
Lower mortgage rates are opening a window of opportunity for borrowers with a mortgage rate above about 5.625% to refinance. For conforming 30-year fixed rate loans, this covers a period from roughly July 2003 to November 2008; however, at least a portion of those borrowers have already refinanced, and many others (especially those with post-2005 loans) probably have insufficient equity to allow for a successful refinance.
HSH's overall mortgage-rate gauge, our Fixed-Rate Mortgage Indicator (FRMI) includes rates for conforming, jumbo, and the GSE's "high-limit" conforming products and so includes a broad swath of the mortgage-borrowing public. The FRMI closed the holiday-shortened week unchanged at 5.00%. Borrowers with shorter time horizons or those seeking even lower rates often opt for a hybrid 5/1 ARM, and rates for those closed HSH's survey at an average 4.03%.
Want to get Market Trends as soon as it's published on Friday? Get it via email — subscribe here!
Private-Market ("non-agency") jumbo mortgages have been quietly moving toward new record-low territory. Last week, the 5.55% average for a 30-year Jumbo matched a record low set in 2003; this week saw that drop by two basis points. HSH's survey data for jumbo mortgages dates back to the mid-1980s.
For refinancing, fixed-rate to fixed-rate refinancing is arguably the most common occurrence. However, with the short-term interest rates which govern ARMs so low, we wondered: Refinance an ARM, not not?
With many common ARMs, and especially jumbo and "alt-A" product, it's worth noting that there can be two issues an ARM borrower might face.

HSH has several lengthy series of statistics dating back to the 1980s for FRMs and ARMs, Conforming, Jumbo and FHA products. These can be licensed for use — interested parties should inquire here.
There are ARM interest rate reSETS (where any fixed-rate period comes to an end, and the loan's interest rate is
changed using the "Index plus Margin, subject to Caps" rule) and ARM payment reCASTS, where the loan switches from non- or negatively-amortizing payments to fully-amortizing ones. These can, and do, happen at the same time.
A borrower who has been paying an interest-only (I/O) payment for a 5/1 ARM who is coming to a reset AND recast point will of course see their original loan balance subject to a shorter remaining payoff period.
This week in July 2005, a borrower with a $100,000 5/1 ARM with I/O payments for the first five years would have an interest rate of about 5.25%, and a monthly I/O payment of $437.

Fast forward five years. The loan balance is the same, but the loan term is five years shorter and the payment must now include principal. Providing an offset to the compressed term and requirement of principal repayment, the loan's new interest rate would fall to about 3.4%, so the monthly payment "shock" of this change would consist of an increase of $62 per month, hardly catastrophic.
If this borrower can meet today's stricter criteria and successfully refinance, a likely interest rate would be perhaps 4.75% for a new 30-year FRM. The corresponding monthly payment would rise to $525, an increase of $88 per month, but of course provide a more permanent solution to interest rate concerns.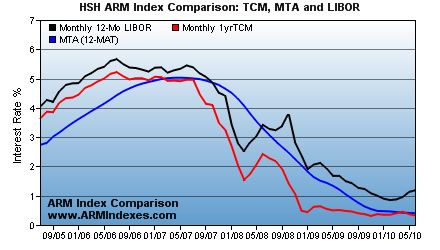 Borrowers who have made fully amortizing payments throughout their ARM's first five years can refinance as above to a new 30-year FRM carrying a payment of $481… or can hold onto their ARM and see their fully-amortizing payment slip by about $96 per month. It is worth mentioning that taking a new loan with a new 30-year term will of course see the borrower pay somewhat more in interest over the combined (35-year) term of the two loans.
The economic conditions which promote low mortgage interest rates seem to be becoming more fully entrenched. A lull in an otherwise growing pattern, or a slip toward a double-dip recession? It's too early to tell, but things are slowing to some degree, and that doesn't bode well for the recovery.
Following up on a reported slowdown in manufacturing activity last week, the Institute for Supply Management report covering service-related businesses pointed to a decline in activity in June. The ISM non-manufacturing index dipped 1.6 points to land at 53.8, indicating an easing in the rate of growth. Orders declined, and after posting just a single positive reading this year, the employment subindex in the report dipped back to the "contracting" side of the breakeven level of 50. Job growth is close to non-existent already, and this report suggest that hiring still isn't happening despite three quarters of positive GDP readings.
Visit the HSH Finance blog for daily updates, consumer tips, and other things you need to know.

And follow us on Twitter for even more need-to-know news!
New filings for first-time unemployment benefits managed a decline in the week ending July 3. The dip of 18,000 is of course welcome, but the 454,000 new applications submitted leaves us smack in the middle of a stubborn range. There may also be some 'seasonal adjustment' noise in the claims data, since GM didn't conduct normal early-July plant shutdowns for retooling.
With the expiration of claims and a new extension not yet in place, about 220,000 people dropped off the "continuing claims" (receiving unemployment benefits) rolls. If Congress doesn't get new benefits in place before long, many millions of folks won't be getting checks in the mail, and this could in turn produce an even greater slowing in the economy in the weeks ahead. Congress is in recess this week, but even when they return there is no guarantee that extended benefits will pass in a timely manner, if at all.
Our Statistical Release features charts and graphs
for 11 products, including Hybrid ARMs.

Our state-by-state statistics are now here.
Current Adjustable Rate Mortgage (ARM) Indexes
Index
For the Week Ending
Previous Year
Jul 02
Jun 04
Jul 03
6-Mo. TCM
0.22%
0.22%
0.34%
1-Yr. TCM
0.31%
0.36%
0.53%
3-Yr. TCM
1.01%
1.26%
1.59%
5-Yr. TCM
1.80%
2.10%
2.50%
FHFB NMCR
4.99%
5.02%
4.88%
SAIF 11th Dist. COF
1.791%
1.825%
1.380%
HSH Nat'l Avg. Offer Rate
5.00%
5.21%
5.81%
ARM indexes, APOR rates, Libor, usury ceilings, & more — all available from ARMindexes.com.

Email and webservice delivery are available.

Sources: FRB, OTS, HSH Associates.
Consumer moods have been a mixed bag of late, with some measures improving and some declining. After matching 2010 highs, the weekly ABC News/Washington Post poll of Consumer Comfort eased by a lone tick, landing at minus 42 (-42) during the week ending July 4.
Since the production-led recovery has largely been due to an inventory restocking cycle, we continue to look for signs of any slowing in either sales or in stockpiles. Either could signal an economy losing momentum. Inventory levels at wholesaling firms — those upstream of any final retail destination — have largely been on the increase for the last seven months, but generally have been met with sales increasing somewhat more strongly. In May, wholesale inventories rose 0.5%, somewhat better than economists had expected. April's figure was revised downward, from 0.4% to 0.2%, but was still a decent showing. The sales component, however, fell 0.3% in May, far less than April's upwardly revised 0.9% (from 0.7%), and the lowest level in well over a year, but some of this was due to fluctuations in petroleum prices. While it's premature to read too much into a single month's report, the mismatch between inventories and sales from those inventories could be another indicator that the economic recovery might be losing some steam, since a sales slowdown might signal businesses to hold back on inventory-restocking orders. That would translate into a slowdown in factory production.
If consumer borrowing is a linchpin to a more robust recovery, we are in for a longer slog than expected. Weak employment and tight lender standards are serving to keep borrowing low, and outstanding loan balances continue to be retired at a steady pace. In May, consumer borrowing contracted by some $9.1 billion; that is, outstanding balances were paid off to the tune of another $7.3 billion for revolving (credit card) accounts and $1.8 billion for installment credit (car loans and such). As well, April's initially-reported $1 billion increase in borrowing was revised to reveal nearly a $15 billion decline in new loans. In fact, there have been only four months of the last two year which have seen any increases in borrowing, and those were mild increases at best. Without borrowing, any increase in consumer spending to power additional economic growth will need to come out of either increases in wages or outlays from savings, and neither seems likely to happen in any magnitude given the economic climate.
Mortgage rates remain low and the economy remains sluggish. We'll get some important clues about the kind of momentum we'll have to begin the third quarter of 2010 as more economic reports from June come out. Next week, we'll see information about Retail Sales, international trade flows, price and inflation information, some local manufacturing reviews and a Consumer Sentiment update. More revealing, perhaps, will be the minutes from the last Federal Reserve meeting, where we'll get a clearer sense perhaps of how the euro-zone debt mess will affect our own outlook.
Mortgage rates have little momentum at the moment, with a couple-basis-point move in either direction equally likely. Given the more mixed nature of equity markets in the past week, the strongest part of the flight to quality/safety seems past, and that may argue in favor of a slight upward bias at most.
---
Looking down the road into summer? Take a look at our new Two-Month Forecast.
We've reviewed and updated "The Ten Most Important Factors for 2010's Mortgage Market". Let us know what you think!
And, if you've got a moment, won't you please take our site survey and give us some feedback?
Want to comment on this Market Trends? Post it here — add your feedback, argue with us, or just tell us what you think.
And for today's top stories, see our HSH Finance blog. Want the latest news/advice/whatever? Follow us on Twitter.
Daily FRMI rates are available on HSH.com.
Check out our weekly Statistical Release here (and archives here).

Popularity: 2% [?]