May 14, 2010 — Follow-through from the Greek market mess and another rough-and-tumble week for US equity markets saw investors again run to the safe haven of US Treasury issues. As a result, the influential 10-year Treasury yield was driven down to 3.45% at Friday's market close, a value comparable to the lows of last week when those issues were compounded by a 10% drop in the Dow Jones Industrial Average.
As we noted last week, such turmoil has a silver lining for mortgage shoppers, since declining yields drag mortgage rates down along with them.
Want to get Market Trends as soon as it's published on Friday? Get it via email — subscribe here!
HSH's market-spanning Fixed-Rate Mortgage Indicator (FRMI) declined by five basis points to close the weekly survey at 5.27% The FRMI includes rates for conforming, jumbo and the GSE's "high-limit" conforming products in its calculation and so covers a wider audience than other surveys. The average 5/1 Hybrid ARM — presently the most popular alternative to the traditional fixed-rate mortgage — came in at an average interest rate of 4.30%, down eight basis points from last week's 4.38%.
The weekly average for the benchmark 30-year Conforming mortgage landed at 5.03%, its lowest weekly figure since December 11, 2009.

Lenders: Looking for quality leads? Lender Showcase leads
go to you, and only to you. Click here to find out more.
The relationship of Treasuries to mortgages is a constant but variable one, as both have rather different risk characteristics. For more on how and why mortgage rates behave as they do, you should read What Moves Mortgage Rates.
Mortgage and other interest rates are of course influenced by other factors, too, with economic growth or decline and inflation concerns chief among them. As we drift away from the recent recession, growth appears to be solidifying gradually, hopefully building enough momentum to overcome the drag of a still-soft labor market and the wreckage of a once-robust housing market.
It's worth noting that the price of oil has fallen sharply since the Euro-zone crisis began. After flirting with the $85/bbl range just a few weeks ago, we are now seeing prices in the low $70 range. Should the lower-price trend hold, this could provide millions of additional consumer spending dollars to help perk up economic growth in the weeks ahead, and perhaps even offset the annual increase in gasoline costs attributed to the "summer driving season," coming soon to a gas station near you.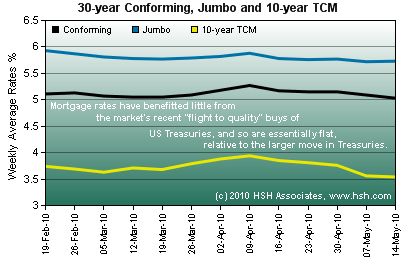 We've often described the recovery as a "technical" or "production-driven" one, and that still seems largely the case. The latest measure of Industrial Production bounced 0.8% higher during April, lifted by increases in manufacturing and mining output. The percentage of factory floors in active use continues to tick slowly higher, with the 73.7% figure another step toward levels seen before the recession hit.
Production is being powered by an inventory-rebuilding process that seems to have finally been joined by an uptick in demand. During the recession, businesses continually slashed stockpiles of goods until there was virtually nothing left, and only then began to accumulate goods in hopes of better times to come. Inventory levels at wholesaling firms — the middlemen between producer and retailer — climbed by another 0.4% in March, continuing a year-long string of increases. However, inventory levels aren't rising, since sales bounded 2.4% higher for the period. Measured against one another, there is barely more than a one-month supply of goods available, a very low level; this suggests that more orders are to come. As with wholesalers, retailers reported a 0.4% increase in goods on hand, but also accompanied by rising sales.
Retail Sales, perhaps the best example of final demand by consumers, rose by 0.4% in April, better than expected but a deceleration from March and February. Outside of auto and gasoline sales, "core" retail sales climbed by 0.4% as well. Over the past 12 months, retail sales have risen a stout 8.8%, much of it in the past seven months.
Visit the HSH Finance blog for daily updates, consumer tips, and other things you need to know.

And follow us on Twitter for even more need-to-know news!
The nation's imbalance of trade expanded slightly during March, ringing in at $40.7 billion for the month. As we import far more goods than we export, a rising deficit signals that demand here is growing, a healthy sign for the economy. Of course, it's easier for the gap to expand if prices of goods coming into these shores are rising, and the 0.9% increase in import prices for April will probably presage another expansion of the trade gap next month. Of course, that 0.9% was heavily influenced by costs of petroleum products, and as we noted above oil costs have shrunk markedly this month; that decline might not be seen until May's report, which won't come until much later. Excluding oil from consideration leaves a much milder 0.3% rise in imported goods. Of course, we can export a little inflation of our own, as witnessed by the 1.2% rise in outgoing costs for the month.
Before too long, it's hoped that labor market and consumer spirits will join in the expansion. So far, though, not so much. Weekly unemployment claims were another 444,000 during the week ending May 8th, little different than the week before, and the week before that, and so on. Layoffs must begin to abate before even fair job creation numbers — such as those seen in April's employment report — will begin to make a dent in the nation's pool of un- and under-employed workers. There are only so many production related jobs available, and with sizable gains in productivity the need for businesses to hire remains elusive.
Our Statistical Release features charts and graphs
for 11 products, including Hybrid ARMs.

Our state-by-state statistics are now here.
Current Adjustable Rate Mortgage (ARM) Indexes
Index
For the Week Ending
Previous Year
May 07
Apr 09
May 08
6-Mo. TCM
0.22%
0.25%
0.32%
1-Yr. TCM
0.39%
0.47%
0.53%
3-Yr. TCM
1.41%
1.71%
1.44%
5-Yr. TCM
2.29%
2.67%
2.09%
FHFB NMCR
4.99%
5.05%
5.04%
SAIF 11th Dist. COF
1.859%
1.614%
2.003%
HSH Nat'l Avg. Offer Rate
5.32%
5.49%
5.48%
ARM indexes, APOR rates, Libor, usury ceilings, & more — all available from ARMindexes.com.

Email and webservice delivery are available.

Sources: FRB, OTS, HSH Associates.
That's probably the key issue influencing consumer moods. The weekly ABC News/Washington Post poll of Consumer Comfort held at a still-lousy minus-47 during the week ending April 9, and the initial reading of Consumer Sentiment for May by the University of Michigan moved just a little higher than April's final figure (and little changed from those seen over the past few months, as well).
Given the world's troubles and the "money response" to them, it's not clear when any sizable increase in mortgage rates — the steady climbing kind of trend one would expect to accompany firming economic growth — might occur. That said, the abrupt focus on these problems and the urgent responses which have followed makes them somewhat less likely to intensify in the days and weeks ahead. Should some tenuous stability start to emerge, it seems likely that at least some of the money driving interest rates down will start to reverse course, a situation which usually occurs with stealthy speed. Once this occurs, and the focus returns to economic fundamentals, it's a fair bet that mortgage (and other) interest rates will begin a march upward.
Probably not next week, though. Mortgage shoppers continue to be presented with excellent opportunities to grab near-50-year-low mortgage rates, and that should be the case at least for the early part of next week. New data on inflation, a review of the minutes of the last Federal Reserve meeting, LEI and some regional manufacturing reports are all on tap. Of late, Greece and others aside, good news seems to be followed by other good news, so let's expect that to be the case… and mortgage rates which seem unequally likely to rise or fall by much.
For a longer view, don't forget to check out the latest Two-Month Forecast.
And, if you've got a moment, won't you please take our site survey and give us some feedback?
Want to comment on this Market Trends? Post it here — add your feedback, argue with us, or just tell us what you think.
And for today's top stories, see our HSH Finance blog. Want the latest news/advice/whatever? Follow us on Twitter.
Daily FRMI rates are available on HSH.com.
Check out our weekly Statistical Release here (and archives here).

Popularity: 2% [?]