April 23, 2010 — Just a little bit of economic news out this week means just a little bit of movement for mortgage rates. Perhaps of more concern is that, just as signs of life are beginning to appear in the housing market, another support mechanism is coming to a fast end.
If the demise of the Fed MBS purchase program hasn't turned out to be the end of low interest rates, perhaps the expiry of homebuyer tax credits won't be the end of nascent momentum in home sales, either.
Want to get Market Trends as soon as it's published on Friday? Get it via email — subscribe here!
HSH's market-spanning Fixed-Rate Mortgage Indicator (FRMI) decreased by just two basis points this week to an average 5.36%. The FRMI includes rates for conforming, jumbo and the GSE's "high-limit" conforming products in its calculation and so covers a wide swath of the market. Borrowers looking for an alternate to the traditional fixed rate loan might look to a 5/1 ARM, which fell this week to 4.42%. This was also a decline of two basis points from the week prior.

Daily FRMI rates are available on HSH.com.

Check out our weekly Statistical Release here (and archives here).

Jumbo mortgage rates have been in the news lately, what with word of a new private-market MBS offering coming into the market. That $235 million, 255-loan 5/1 ARM security would be the first such offering in a couple of years. Relative to the size of the overall mortgage market, this is a truly tiny deal composed of what could be considered to be the best-of-the-best borrowers, with high FICO scores and low LTV and debt ratios. While small, this will nonetheless be an important test to see if the mortgage market we used to know can be revived, and could eventually lead to loosening of underwriting criteria so that more jumbo borrowers can find loans to meet their needs.
We've been pondering, wondering and polling visitors at HSH.com over the past couple of weeks to gauge whether or not the homebuyer tax credits were important enough to be extended for a second time. Over 2300 folks responded, with a full 90% saying they thought it should be extended. As yet, there has been no word from Washington that there is any intention of re-authorizing the credit, but it would appear that there is growing value in this market crutch.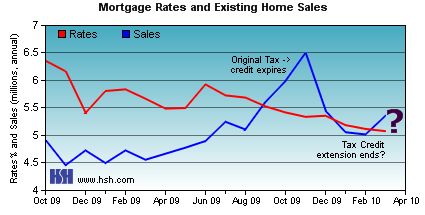 Bolstered by the credit, existing home sales bounced 6.8% higher in March, according to the National Association of Realtors. The annualized rates of sale climbed to 5.35 million for the month, the highest level in four months. The supply of available homes eased back to a still-elevated 8.0 months. Relative to a year ago, home prices firmed by 0.4%. This is the second time in the past three months that prices landed on the positive side of the ledger, a suggestion that they may finally be stabilizing.
While existing home sales are the largest portion of the market, new home sales play an important role, since there are many upstream jobs which accrue to materials, transportation, and construction concerns when homes are being built. If the tax credit was even partly responsible for the nearly 27% increase in sales during March, then extend it again, by all means. Sales of new homes rose to an annualized 411,000 during March, besting forecasts by a wide margin. The figure was the highest in seven months, even above the level seen before the credit's last expiry. Inventory available for sale dropped to a closer-to-normal 6.7 months, and the actual number of units built and ready for sale declined by 5,000 to only 228,000 remaining.
One of the arguments against extending the credit is that we may be providing incentives to people who would buy a home anyway. However, that probably could be said for any number of temporary tax offerings, and there really isn't a way to gauge how many people this might actually be. A similar case was made last year in the CARS ("cash-for-clunkers") program; that $4,500 incentive, relative to the value of the item being purchased, was considerably more significant than this one, and there were almost 700,000 people who took advantage of that offer. Since tax year 2009 just ended, we probably don't yet know how many borrowers took advantage of the first offer, let alone the 2010 version (results might not come until next April). In any event, if it has value and seems to be working to support the market, what's the harm in keeping it around until the 'spring homebuying season' ends, perhaps at the end of June?
Visit the HSH Finance blog for daily updates, consumer tips, and other things you need to know.

And follow us on Twitter for even more need-to-know news!
Perhaps by then the economy will be growing strongly enough to not need these kinds of supports. The index of Leading Economic Indicators rose by a fat 1.4% in March, and this tool is said to presage economic conditions as much as six months down the road. If that's the case, we may be in a more solid position by then, perhaps even adding private market jobs at a rate sufficient to draw down the ranks of the unemployed. So far, that's been a tough slog, and new layoffs have kept the unemployment lines rather long, week after week.
Another 456,000 new applications for help were dropped off at state windows during the week ending April 17. While that's actually a better number than we've seen in recent weeks, it remains both elevated and stubborn. We won't see the April employment report for two more weeks yet, but it doesn't seem likely to be much better than March's meager offering.
Our Statistical Release features charts and graphs
for 11 products, including Hybrid ARMs.

Our state-by-state statistics are now here.
Current Adjustable Rate Mortgage (ARM) Indexes
Index
For the Week Ending
Previous Year
Apr 16
Mar 19
Apr 17
6-Mo. TCM
0.24%
0.24%
0.35%
1-Yr. TCM
0.44%
0.41%
0.55%
3-Yr. TCM
1.63%
1.50%
1.27%
5-Yr. TCM
2.57%
2.42%
1.79%
FHFB NMCR
5.05%
5.01%
5.12%
SAIF 11th Dist. COF
1.614%
1.786%
2.455%
HSH Nat'l Avg. Offer Rate
5.38%
5.31%
5.44%
ARM indexes, APOR rates, Libor, usury ceilings, & more — all available from ARMindexes.com.

Email and webservice delivery are available.

Sources: FRB, OTS, HSH Associates.
While price pressures aren't an issue at the moment, there's no doubt that they bear watching, particularly as the economy slowly recovers. The Producer Price Index, a measure of costs upstream of the consumer, rose by 0.7% during March, driven higher by energy and food inputs. Exclusive of them, the so-called 'core' PPI nudged just 0.1% higher, continuing a great disparity between 'headline' (+6.1% over the past year) and 'core' measures (+0.8% over the same stretch). Should we start to see indications that prices are firming — not just due to growth here but to growing world demand — the Fed might be compelled to act to change policy sooner rather than later, a situation which might make for a very protracted recovery.
After a few solid months in a row, orders for durable goods took a breather in March, slipping by 1.3%, largely due to a fall in orders for civilian aircraft. However, the proxy for business-related spending in the report did post a 4% rise and should provide some support for the production-led recovery to continue.
It would be unlikely to expect to see consumer moods improving during the week which includes Tax day, and they didn't disappoint. The weekly ABC News/Washington Post poll of Consumer Comfort shed another three points to land at -50 during the week ending April 18. That's within striking distance of its record low and another signal that economic expansion isn't really being felt by many at this stage.
Compared to this week, a slew of new data comes next week. Aside from wondering about the tax credit, there is a Federal Reserve Open Market Committee meeting on Wednesday to occupy the market's attention. We will see other measures of consumer moods, a couple of looks at manufacturing health, the quarterly Employment Cost Index and the first look at economic growth in the first quarter of 2010 (as measured by GDP). Mortgage rates don't seem to want to go anywhere too quickly at the moment, but the Fed will probably judge things to be getting better, and there will probably start to be some speculation by the markets as to when the Fed will make a policy move (we're guesstimating July at this point). All told, we think mortgage rates will firm up a few basis points by the time our next survey is completed.
For a longer view, don't forget to check out the brand-new Two-Month Forecast.
And, if you've got a moment, won't you please take our site survey and give us some feedback?
Want to comment on this Market Trends? Post it here — add your feedback, argue with us, or just tell us what you think.
And for today's top stories, see our HSH Finance blog. Want the latest news/advice/whatever? Follow us on Twitter.
Popularity: 2% [?]