April 9, 2010 — No, it's not good news that mortgage rates are firming up a bit; rather, it's good economic news that is fostering the mild rise in rates. As the worst of the recession ever-so-slowly begins to fade behind us, and the technical recovery starts to include wider facets of the economy, borrowers and mortgage-watchers should become more accustomed to hearing of firmer rates in the marketplace.
Its worth remembering that the rock-bottom interest rates seen at times over the past year were both the result of, and corresponding responses to, extreme economic conditions which no longer fully exist.
Want to get Market Trends as soon as it's published on Friday? Get it via email — subscribe here!
HSH's Fixed-Rate Mortgage Indicator (FRMI) rose by eight basis points this week to an average 5.49%. HSH's indicator includes rates for conforming, jumbo and the GSE's "high-limit" conforming products in its calculation. The FRMI's 5/1 Hybrid ARM companion rose by just two basis points, finishing the survey week at 4.52% Conforming 30-year FRM averages rose by nine basis points, continuing a three-week rise.
As an economic recovery stumbles forward, investors usually begin to become interested in other higher-risk opportunities. Oil, gold, and stocks are benefiting from this change in investment at the expense of less-risky (but lower-yielding) investments. As a result, however, the shift of cash away from these ultra-safe investments (such as US Treasuries) serves to push their yields higher, and this in turn presses mortgage rates higher.

Daily FRMI rates are available on HSH.com.

Check out our weekly Statistical Release here (and archives here).

Ultimately, when economic growth gets fully underway, demand for credit from other quarters will also serve to press rates higher; as well, a return of inflation would also exacerbate the situation, but for now that is still tomorrow's problem. At this moment, the resumption of a mortgage market more dependent upon the whims and desires of private investors (rather than the Federal Reserve) means mortgages must again compete against other investments for investor favor, and mortgage rates are again re-establishing their relationships against other baseline benchmarks. When those benchmarks move, so will mortgage rates, to a greater or lesser degree.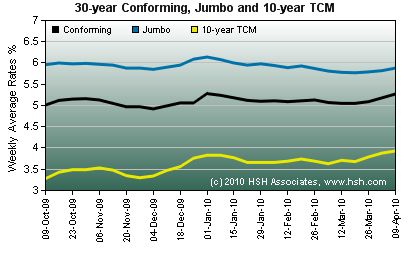 Among the economic news which produced some optimism this week was the Institute for Supply Management's survey of activity at service-related businesses. The ISM manufacturing survey has been in growing territory for about eight months now, while the non-manufacturing base finally turned solidly positive in February. Service-related businesses are proportionally larger than the manufacturing base in this country, and while the longer expansion in manufacturing is important, the fact that the production-led expansion is starting to be joined by more folks is very good news. The employment index in the ISM services survey is again near a breakeven level, and the steady upward trend suggests that job growth should start happening any time now — especially if the acceleration in new orders, as detailed in the report, continues.
Some individual major retailers reported good-to-great gains in March sales (the 'official' March Retail Sales report is due next week). While the figures had some easy comparisons against a terrible year-ago period and were probably goosed by a fairly early Easter this year, consumers seem to be cautiously emerging from their recession-induced thrift.
That said, consumers appear to be using cash to fund those purchases. In February, outstanding consumer borrowing declined anew, sliding by $11.5 billion for the month, erasing a January gain of $10.6 billion. Retrenchment of new borrowing was again concentrated in credit cards (-$9.4 billion) but also extended to installment-type debt (-$2.1 billion). That drop was probably due to weak car sales in February brought on by bad weather; we already know that sales rebounded in March (see last week's MarketTrends). Some of the paydown of revolving debt is probably due to the considerably less-favorable terms being offered as a result of the initiation of the CARD Act back in January. Statements and "important changes to your account" notifications continue to bring news of higher interest rates and fees to even good-credit-quality borrowers; those who can do without at least some availability of credit (or from so many sources) seem to be doing so, no doubt to the chagrin of lenders.
Visit the HSH Finance blog for daily updates, consumer tips, and other things you need to know.

And follow us on Twitter for even more need-to-know news!
At least one expression of the expansion in final sales came in the form of increases in stockpiles at wholesalers. These upstream-of-retail concerns grew their inventories by 0.6% during February; a corresponding 0.8% gain in sales means that the ratio of goods-on-hand relative to sales remains very low. That portends well for new orders for manufacturers in the coming months, and should continue to support the expansion as various economic supports end or peter out.
Minutes of the last Federal Reserve Open Market Committee meeting some three weeks ago expressed both optimism and apprehension about present and near-term economic conditions. The FOMC noted "incoming information as broadly consistent with continued strengthening of economic activity, [but] they also highlighted a variety of factors that would be likely to restrain the overall pace of recovery, especially in light of the waning effects of fiscal stimulus and inventory rebalancing over coming quarters."
Overall, things are getting better, slowly, but forward momentum is weak. With regards to keeping interest rates low, the discussion centered around two concepts: the usage of "exceptionally low" and "extended period of time." The Federal Funds rate remains below a quarter percentage point, but readers should know that "exceptionally low" probably ranges all the way up to near a full percentage point. With regard to the "extended period," it was suggested that this time frame would be dictated not by calendar, but by economic climate.
Our Statistical Release features charts and graphs
for 11 products, including Hybrid ARMs.

Our state-by-state statistics are now here.
Current Adjustable Rate Mortgage (ARM) Indexes
Index
For the Week Ending
Previous Year
Apr 02
Mar 05
Apr 03
6-Mo. TCM
0.24%
0.19%
0.42%
1-Yr. TCM
0.43%
0.34%
0.58%
3-Yr. TCM
1.65%
1.36%
1.22%
5-Yr. TCM
2.60%
2.29%
1.73%
FHFB NMCR
5.05%
5.01%
5.12%
SAIF 11th Dist. COF
1.614%
1.786%
2.455%
HSH Nat'l Avg. Offer Rate
5.41%
5.34%
5.48%
ARM indexes, APOR rates, Libor, usury ceilings, & more — all available from ARMindexes.com.

Email and webservice delivery are available.

Sources: FRB, OTS, HSH Associates.
That time frame would grow considerably shorter if job growth was surging. It's not. The mild increase in payrolls in March was insufficient to bring down the 9.7% unemployment rate, and the freshest look at labor trends remains less than encouraging. During the week ending April 3, another 460,000 new applications for unemployment benefits were filed, another week in a stubborn trend which cannot seem to produce on-going improvements. If service industries are on the cusp of hiring, we should start to see some measurable improvement before long. That said, it is very likely that those joining the ranks of the newly-unemployed will be state and local government workers and those connected with public education, as state budgets are being severely curtailed.
Optimism improved a little among consumers during the week ending April 4. The weekly ABC News/Washington Post poll of Consumer Comfort bumped back up to -43, again nearing the top of this year's range. It would seems that there are many seemingly intractable factors providing discomfort for consumers at the moment. Rising stocks seem unable to overcome weak labor markets and the downturn in home values, so it may be a while until happiness becomes more pervasive.
If the economy really is getting better, though, Treasury yields — and especially mortgage rates — are the first to reflect this (just as they reflect impending weakness when the economy is declining). We are moving back toward an investment and mortgage market with less overt government distortion, and such signals — collective expressions of millions of investors — should be paid at least some heed.
For the moment, mortgage rates have mildly risen. If we get more clues next week that the economy is gaining its footing, we'll probably see more upward pressure on interest rates. However, there are considerable headwinds for the economy at the moment, and these should have a tempering effect on interest-rate increases.
On tap next week is information about the strength of imports and exports, inflation trends, two housing-related reports, retail sales and industrial production. While we hope for good news, of course, that would mean firmer rates for potential borrowers. Let's instead hope for (and expect) an overall mixed bag, and mortgage rates about where they are at present.
For a longer view, don't forget to check out the brand-new Two-Month Forecast.
And, if you've got a moment, won't you please take our site survey and give us some feedback?
Want to comment on this Market Trends? Post it here — add your feedback, argue with us, or just tell us what you think.
And for today's top stories, see our HSH Finance blog. Want the latest news/advice/whatever? Follow us on Twitter.
Popularity: 2% [?]